An architecture for integrated intelligence in urban management using cloud computing
Journal of Cloud Computing: Advances, Systems and Applications
Advances, Systems and Applications
2012
1:1
Received: 30 November 2011
Accepted: 5 April 2012
Published: 5 April 2012
Abstract
With the emergence of new methodologies and technologies it has now become possible to manage large amounts of environmental sensing data and apply new integrated computing models to acquire information intelligence. This paper advocates the application of cloud technologies to support the information, communication and decision making needs of a wide variety of stakeholders in the complex business of the management of urban and regional development. The complexity is evident in the socio-economic and environmental interactions and impacts embodied in the concept of the urban-ecosystem. This highlights the need for more effective integrated environmental management systems. A key to understanding the nature of integrated environmental management systems is the identification of the need for horizontal integration of information across sectoral inter-agency boundaries at the local level, and the need for vertical coordination between levels of governance. This paper offers a user-oriented approach to the specification of requirements for the effective management of urban areas and the potential contributions that can be supported by cloud computing. The commonality of the influence of the drivers of change at the urban level offers the opportunity for the cloud computing community to develop generic solutions that can serve the needs of hundreds of cities throughout Europe and indeed globally. In this respect, different cloud based architecture scenarios are presented which utilise capabilities compliant to various standards in generating information and intelligence for urban governance.
Keywords
Information intelligenceEnvironmental monitoringData harmonisationService integrationCloud and computing standards
Introduction
Integrated environmental intelligence can be described as the capability of a system to access, process, visualise and share data (spatial and non-spatial), metadata and models from various domains relating to land-use/cover, biodiversity, atmosphere as well as socio-economic aspects of the city for various purposes. Examples include the identification of environmental change and causality, future environmental trend analysis, socio-economic development, policy development and collaborative decision-making. Even if, there is a profusion and explosion in the growth of environmental data, this data mostly is fragmented and un-harmonised. Furthermore, such data exist in proprietary and open systems, less compliant to standards and sometimes requires extensive computing capacity, constraining its use across different platforms. This suggests that integrated environmental monitoring requires compliance to standards, data harmonisation and service interoperability together with extensive on-demand processing and storage capacities in order to answer scientific and policy related questions.
In the above context, this research is an attempt to bridge the gaps between fragmented cross-thematic environmental information, with a particular focus on the urban environments. In this regard, it aims to develop a cloud-based framework that facilitates data accessibility and storage across platforms, and provides necessary on-demand computational resources for the required processing, simulation and visualisation tasks. This framework also aims to provide mechanisms for integrated information intelligence necessary to resolve the highly complex cross thematic multiple impact challenges associated with climate change, as well as measures to ameliorate these impacts associated with climate change mitigation and adaptation. More specifically, from a user perspective, the aims include:
informing complex policy and science related questions which cannot be addressed directly from non-integrated information sources;

studying different environmental phenomena by investigating the causality relationship between environmental variables;

enabling access to cross-thematic environmental information for climate change mitigation and/or adaptation;

facilitating various stakeholders in generating environmental indicators to support policy interventions, assessment of the state of the urban environment, decision-making and policy implementation;

empowering citizens in participatory environmental data collection and collaborative decision making processes and

designing and utilising state of the art user-centred information technology tools and techniques in relation to all of the above.
From a technological perspective, the above aims help in identifying the required system capabilities which primarily necessitate acquisition and harmonisation of cross-thematic spatial and non-spatial data (using standards) in order to provide uniform access to interoperable information for various purposes. Further, it indicates that in order to deliver integrated intelligence derived from an increasing volume of environmental data, significant storage capacity is needed to preserve the environmental data and additional computational power is necessary to process this data. Furthermore, it suggests that specialised processing and visualisation services are needed to analyse the data in order to support enhanced decision-making. For instance, when the output from processed data e.g. information maps, scale from a local (i.e. City) to national or regional levels for comparative environmental indicator analyses, the amounts of data and the number of processing requirements typically increase. In this case, the cloud computing paradigm offers an excellent means of fulfilling the above requirements. It can provide an on-demand framework to make systematic the information flow from data collection to analysis, monitoring and assessment based on standard guidelines such as ISO 19100 Series, the Open Geospatial Consortium (OGC) [
1
] standards and the INfrastructure for SPatial InfoRmation in Europe (INSPIRE) [
2
] specifications. Figure
1
depicts both user and technology perspectives to achieve integrated information intelligence for environmental monitoring. The challenge here is to introduce appropriate mapping, harmonisation, integration and utilisation of suitable tools and technologies in a cloud environment in order to fulfil stakeholder requirements.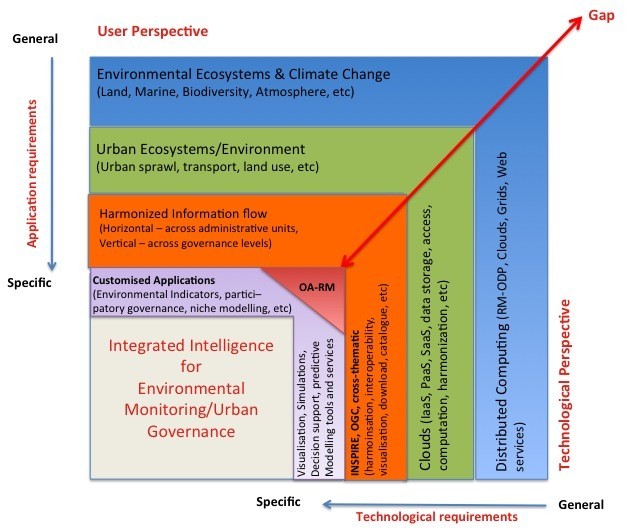 One of the basic elements for Integrated Environmental Monitoring (IEM) is the processing of 'data', which in the case of urban environments is mostly geo-tagged (e.g. in space and time) and combined with socio-economic and demographic elements. In this respect the OGC provides a sound foundation of standards in the distributed geo-processing domain. Recently OGC highlighted the significance of cloud computing for the geospatial computing world by indicating a number of application areas where cloud computing is well suited, including the modelling of complex environmental applications, the fusion of existing preserved data and new sensor data for decision-making, enterprises, scientific and governmental storage and compute-intensive applications [3]. Furthermore, it is highlighted in [3] that exchanging geospatial data between systems (clouds or user applications) is not sufficient rather it is also necessary to understand the meaning of data. For example the existence of thousands of spatial reference systems; various representations for spatial data including raster, vector, points and others; semantic heterogeneity; proprietary interfaces and vendor specific encodings also add to the complexities. All this requires integrated solutions for information intelligence for environmental monitoring.
The remainder of this paper is structured as follows. In next section background and related work are presented. Then a user perspective is presented briefly in order to derive technological capabilities in clouds. After this we present a proposed architecture for IEM followed by different implementation scenarios using cloud computing. Then we briefly discuss integrated intelligence and decision-making approaches followed by an assessment of the proposed architecture by identifying its benefits, potential research and technological challenges and an overall reflection on the expected research outcomes is presented. Finally, we conclude and identify future research possibilities.
Conclusions
In this paper, we have argued that the integration of fragmented environmental information can result in better environmental monitoring in order to mitigate various environmental challenges such as issues related to climate change. Furthermore, we argued that cloud computing can play a major role in achieving environmental information integration by providing on-demand processing and storage capabilities. Our urban management based example assists in identifying a generic set of technical capabilities for information intelligence and proposes a layered architecture for IEMS using different cloud based implementation scenarios. However, based on our preliminary assessment we argue that it is not a simple matter to develop integrated intelligence to its full potential as a result of certain technological challenges. These challenges require rigorous investigation in future research in realising the true potential of the proposed cloud based architecture for integrated information intelligence and decision making in environmental domain.
Authors' information
Dr. Zaheer Khan is a Postdoctoral Research Fellow in the Faculty of Environment and Technology of UWE, Bristol, UK. He has over 7 years of teaching and research experience in system analysis and design, databases, distributed systems, etc. He has been actively working in large-scale EU and non-EU collaborative computing research projects: FP6 Health-e-Child, FP6 HUMBOLDT, FP7 LifeWatch and SAGE. Currently he is working on the FP7 UrbanAPI project dealing with ICT applications for urban governance. His main research interests are in distributed computing in particular cloud computing, software engineering, business process management, data interoperability and management, software agents and geospatial information systems.
Mr. David Ludlow is an urban planner with extensive practice experience gained in UK land-use planning agencies, and at UWE as project manager for more than 30 EU funded projects focused on integrated urban management information systems, and sustainable urban development. He is a member of the EU Expert Group on the Urban Environment (European Sustainable Cities Project), and the Expert Group for the EU Thematic Strategy on the Urban Environment (6th Environment Action Programme). Currently he is UWE project manager for EU FP7 projects urbanAPI and urbanNexus, the ESPON SEGI project, and urban expert for the European Topic Centre Spatial Information Analysis (European Environment Agency).
Professor Richard McClatchey currently leads the Centre for Complex Cooperative Systems at UWE and is active in collaborative computing projects at CERN, and with many international partners in other EC projects: Health-e-Child, SHARE, neuGRID and N4U. He has been research active for the past 30 years and has led many projects funded by industry and by the EC in the areas of large-scale distributed data and process management and database modelling and in systems design and integration.
Dr. Ashiq Anjum is a senior lecturer in the School of Computing and Mathematics at the University of Derby. His areas of expertise include Distributed, Parallel and Concurrent Systems (mainly Cloud and Grid Computing). He has worked on a number of scientific and industrial projects (notable contributions include FP7 funded TRASNFORM project, FP7 funded neuGrid project, FP6 funded Health-e-Child project, NSF/DOE funded CAIGEE project and US Aid funded GAE project) in collaboration with leading industrial and academic partners in Europe and USA. He has 12 years of experience in academic and industrial research and has around 60 publications to his credit.
Authors' Affiliations
(1)
Faculty of Environment and Technology, University of the West of England, Bristol, UK
(2)
School of Computing and Mathematics, University of Derby, Derby, UK
Copyright
© Khan et al; licensee Springer. 2012
This article is published under license to BioMed Central Ltd. This is an Open Access article distributed under the terms of the Creative Commons Attribution License (http://creativecommons.org/licenses/by/2.0), which permits unrestricted use, distribution, and reproduction in any medium, provided the original work is properly cited.