Virtual machine introspection: towards bridging the semantic gap
Journal of Cloud Computing
Advances, Systems and Applications
2014
3:16
Received: 14 March 2013
Accepted: 30 June 2014
Published: 25 October 2014
Abstract
Virtual machine introspection is a technique used to inspect and analyse the code running on a given virtual machine. Virtual machine introspection has gained considerable attention in the field of computer security research. In recent years, it has been applied in various areas, ranging from intrusion detection and malware analysis to complete cloud monitoring platforms. A survey of existing virtual machine introspection tools is necessary to address various possible research gaps and to focus on key features required for wide application of virtual machine introspection techniques. In this paper, we focus on the evolution of virtual machine introspection tools and their ability to address the semantic gap problem.
Keywords
Virtual machine introspection
Introduction
Security and safety are two principal factors governing future cloud computing research and development. Research in virtualisation technology has fuelled cloud computing growth and directly contributed to its development. Our work of reviewing virtual machine introspection (VMI) techniques predominantly targets cloud computing enabler virtualisation, with security as its major concern.
VMI is a technique initially suggested by [1] in 2003. They defined VMI as a method of inspecting a Virtual Machine (VM) from the `outside' for analysing the software running on the machine. Over the past few years, VMI has seen concrete contributions, and various methods have been suggested to inspect VM data from the outside. The difficulty in interpreting the low level bits and bytes of a VM into a high level semantic state of a guest Operating System (OS) is called the "semantic gap problem' [2]. To interpret the low-level binary state information about the VM, a virtual machine monitor (VMM) must incorporate knowledge of the hardware architecture or guest OS [3].
In majority of VMI techniques, VM which is observing the results of introspection is different than the VM being introspected. The main motivation behind VMI is to analyse every possible change taking place in a guest OS due to the deployment of a given set of code over its entire lifecycle. It is also possible that in presence of monitoring code, deployed code may behave differently than its legitimate behaviour. Presence of monitoring code on a guest VM puts some limitations on execution of monitoring code like, VMI code could start after OS being loaded properly and it could continue till guest OS starts its shut down routine. Introspection from outside the guest VM addresses one or more of the above stated issues. Hence, introspection from different VM is preferred over the other options.
VMI, which has its roots in cloud enabling technology virtualisation, has the potential to change security deployment in cloud environments. The last couple of years have seen considerable progress in exploring various techniques for VMI. Path-breaking applications of VMI have been developed in relation to cloud security, cloud intrusion detection and cloud access management. There are evidences of intrusion detection systems and rootkit detection methods which have been proved effective only because of use of VMI in their implementation [4]-[6].
The contributions of this paper are as follows:
It thoroughly inspects VMI techniques and outlines their advantages and weaknesses.

It summarises various possible attacks and threats to VMI techniques.

It proposes a VMI technique based on microprocessor architecture features.
We expect the following outcomes from our manuscript. We believe that it will provide a guide for future developers of VMI tools looking to develop various applications for cloud security and malware detection based on VMI. This paper is organised as follows: Section `An overview' describes the basics of virtualisation and provides an illustration of the semantic gap problem. The later part of this section is dedicated to the taxonomy that we used to classify VMI tools. Section `Characteristic properties of VMI' reveals the properties of an ideal VMI technique. Section `Memory introspection' describes memory introspection, Section `I/O Introspection' defines I/O introspection, and Section `System call introspection' covers system call introspection. Section `Process introspection' is dedicated to process introspection, and Section `Other techniques' describes a range of possible techniques for VMI. Section `Proposed architecture for VMI' describes the proposed architecture for VMI. Section `VMI applications & future' outlines some predominant VMI applications. Section `Security issues in VMI' discusses possible attacks on VMI techniques and the VMI architecture. Section `Conclusion' presents the conclusion to our survey. Table
1
provides at a glance comparison of VMI techniques reviewed in this document.
Table 1
Comparison of VMI techniques
Category

Technique

Location of code

VMM transparency

VMM alteration

Guest support

Advantages

Guest VM

Secure VM

VMM

Memory introspection

Using Xen Libraries

N

Y

Y

No

Required

PV Guests

Safety of VMI code

I/O Introspection

N

N

Y

No

Required

All Types

Driver and I/O access inspection

System call introspection

Using VT support

N

Y

Y

No

Required

All Types

Processor support makes introspection less complicated

By Hardware Rooting

N

Y

N

No

Required

All Types

Protection from DKSM attacks

Process introspection

Using Hooks

Y

Y

Y

Yes

Required

All Types

Reverse remote control possible

Using Shadow Page Tables

Y

N

Y

Yes

Required

All Types

Trusted Introspection code execution

Using CFG

Y

N

Y

Yes

Required

All Types

Novel approach for code malfunction detection

Other techniques

Code Injection

Y

N

Y

Required

All Types

Secure and less prone to attacks

Function Call Injection

Y

Y

Y

No

Required

All Types

Novel approach

Page Flag Inspection

Y

Y

N

No

No

PV guests

Detects packed & encrypted malwares

Process Out-grafting

Y

Y

Y

Yes

Required

All Types

A novel approach

Live Kernel Data Redirection

Y

Y

Y

Yes

Required

All Types

Choice of selection for introspection programme

Proposed technique

Event Injection

Y

N

Y

Yes

Required

All Types

Secure & almost every introspection code can be used
An overview
Different terminologies are applied to the virtualisation framework. We adopt the following terminology throughout this paper: A Guest VM is a virtual machine running on a given hypervisor. The Guest OS is an OS system running on a particular guest VM. A Secure VM is a VM dedicated to security applications. Unless otherwise stated, the guest VM introspection is done through the same secure VM.
Virtualisation & hypervisors
The virtualisation technique is used to create a virtual environment for computing by virtualising hardware, I/O and processors. This virtual environment is possible with the help of a special layer of software named a VM monitor (VMM) or hypervisor. The VMM is the interface between the hardware and the VMs running on the system. Depending on the logical position of VMM in operating system architecture, VMMs are distinguished into two major types.
Type I Hypervisor
Type II Hypervisor
Type I hypervisors run directly on available hardware, eliminating the need for other layers, such as an OS, and providing high efficiency compared to its counterpart. Xen [7], VM Ware ESX [8] and Microsoft HyperV [9] are well-known Type I hypervisors. As these hypervisors run directly over hardware, they are also known as "bare metal hypervisors".
Type II hypervisors have the in-between interface of the OS to communicate with hardware. They usually depend on an OS to provide device drivers for hardware interaction. KVM [10], QEMU [11] and the VMWare workstation [12] are well-known examples of this type of hypervisor.
Semantic gap problem
The semantic gap problem in virtualisation was first stated by [2]. To extract meaningful information about the current state of a VM, detailed knowledge of the workings of the guest OS is required. It is very difficult to derive a complete view of a guest OS from outside a guest VM due to the highly dynamic nature of modern OSes. Various features, such as demand paging, parallel computing and multithreading, make the architecture of an OS very complex and volatile. View creation becomes extremely complex. This problem is known as the semantic gap problem. The preliminary aim of VMI is to generate a complete view of a guest VM. Hence, the evolution of VMI has been guided by the question: "How efficiently can the given VMI technique bridge the problem of semantic gap".
Characteristic properties of VMI
VMI is applied in widespread domains. With some listed in Section `Introduction', Section `VMI applications & future' details additional applications. It is obvious that some properties of VMI are application domain specific. Still, there are a few important properties that all VMI tools should possess, irrespective of their application domain. Some of the properties are listed below:
Minimum performance impact: The main goal in virtualisation is to share resources between available guests. The implementation of introspection techniques should place as little burden as possible on the operation of the existing system. Introspection techniques should not place a burden on the hypervisor and real hardware resources.

Minimum modifications to hypervisor: Introspection techniques should work independently and make minimum modifications to the hypervisor code. This is important in the application of VMI during minor revisions and in future versions of the VMM.

No modifications to guest OS: Real-world hypervisors provide support to almost every possible OS as a guest. If the introspection code needs to be modified for each guest OS, its widespread applicability becomes questionable. Even minor revisions and periodical patches to a particular OS may create problems.

Transparency in operation: The operation of VMI technique should be transparent to the hypervisor, the guest VM and any program on the guest VM.

Hypervisor independence: The VMI technique should not depend on any exclusive feature of the hypervisor architecture. It should be applicable to any type of hypervisor, irrespective of its implementation technology.

No side effects: The implementation of introspection tools should not generate any unwanted results, which may lead to malicious behaviour of system components. VMI tools should also not produce any extraordinary results, which may lead in the detection of its existence.

Security of monitoring component: VMI modules can be located in the hypervisor, guest VM or secure VM. These modules must be secure from external attacks. If a VMI module is present in a guest VM, special protection must be provided to preserve its integrity.
Taxonomy of VMI
There are different possible events related to a guest VM and a guest OS running on it. These events can be grouped to have introspection at various degrees A brief overview is given below:
1.

2.

System Events Introspection

(a)

System Call introspection

(b)

Interrupt Requests Introspection

(c)

I/O Device Driver Introspection

3.

Live Process Introspection
Based on the above-mentioned classification, we have divided the introspection techniques according to different types. Figure
1
describes a possible taxonomy for VMI.

Proposed architecture for VMI
We have already seen that VMI has very large scope with regard to security and privacy. VT-based processors provide additional support to hypervisors. Our proposed architecture for VMI is based on Intel VT technology. According to Intel's VT [33] architecture, if the valid bit in the VM_entry_interruption _information_field of VMCS is 1, a logical processor delivers an event to a guest OS after all the components of a guest VM state have been loaded. For delivering an event, a vector is used that points to a descriptor of a guest IDT.
This type of entry covers software interrupts, privileged software exceptions and traps. The VMM or introspection software running on a VMM can easily generate these types of interrupts. We have introduced a novel technique, which utilises this interrupt. Figure
5
represents the architecture of our proposed technique.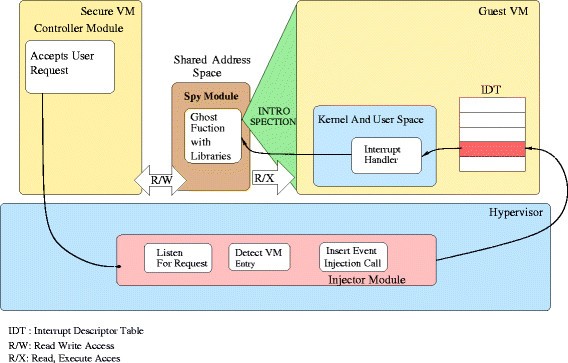 Our technique is divided into three modules residing at three different physical locations. Their operation is explained as follows:
Controller Module: This resides on a secure VM. Whenever introspection is required, a command is given through this module. It is responsible for sending requests to a hypervisor-based module. As this module is part of a secure VM, it is part of a trusted computing base (TCB) and thus is secure.

Injector Module: This module is located in the hypervisor layer. It listens for requests from the controller module. On receipt of an introspection request, it waits for the next VM entry. It detects the next VM Entry and introduces an artificial software interrupt by an event injection. The injection takes place after loading the IDT on a guest VM. The module is responsible for putting a particular vector entry in an event injection call. It corresponds to the user- defined interrupt descriptor in the IDT of a guest VM. Thus far, we have defined a single IDT entry, which corresponds to a single interrupt handler routine.

Spy Module: This module has two parts. The first consists of an installation patch, which installs our own IDT entry and defines the interrupt handler routine for that IDT entry. The second part is hidden from the guest VM. The interrupt handler has a single role: It redirects every call to a ghost function. The ghost function contains the introspection code. The address space of the ghost function is different to that of the guest VM. The address space is mounted on the guest VM in read only and executable mode by the hypervisor, only after the controller module has invoked the introspection signal. The function first selects the required introspection type from the available options and then executes it. This function is pre-compiled, and the binary code of the function contains the libraries that are required during execution. This ensures the integrity of the code, preventing tampering. The results generated by this ghost function are saved in another part of the address space shared with the guest VM.
Salient features of our technique are as follows:
Minimum Performance Impact: This VMI technique is invoked on demand i.e. if the valid bit in the VM entry interruption information field in VMCS region is 1, a logical processor delivers an event to a guest OS after all the components of a guest VM state have been loaded. This will trigger the Spy module and it will start the introspection. This ensures that no script or agent will be running on hypervisor or inside the guest VM for the entire lifecycle of VM. The code will be invoked on-demand and it will terminate on completion of its execution.

Minimum hypervisor modification: The technique is based on Intel VT technology and solely depends upon it for functioning. Hence requires very few modifications to hypervisor.

Transparency in operation: This technique makes very few changes to the hypervisor and also do not make any change in guest OS which makes this technique transparent in operation.

No side effects: The technique does not produce any unwanted results and outputs. The laboratory testing revealed that the execution of guest OS with and without VMI technique had no effect on a hypervisor and guest OS execution. This ensures that there will not be any unwanted site effect on existing setup.

Security of monitoring code: Our VMI technique is divided in three parts. Controller and Injector module works from Secure VM and Hypervisor respectively. These two modules are never exposed to Guest VM and to the entities inside it (i.e. Softwares, applications and even malware running in Guest VM). Spy Module interacts with Guest VM and runs various custom scripts as per the user need, on Guest VM. It is stored in a separate memory area which is not part of the address scape of a Guest VM. This ensures that entities on Guest VM cannot implicitly access, modify this introspection code, making it secure.
VMI applications & future
Security issues in VMI
It is clear from Section `VMI applications & future' that the majority of VMI applications are related to the security domain. As stated in Section `Characteristic properties of VMI', transparency remains a key feature for VMI techniques, specially for those applications of VMI which are developed for the security and privacy. In this section, we have summarise possible attacks on VMI techniques.
Kernel structure manipulation
VMI tools that depend upon memory analysis are victims of kernel structure manipulation. Memory introspection tools derive information on the state of a guest's OS state and related information by analysing the memory of the guest VM. These tools rely upon underlying data structures used by the kernel. In kernel structure manipulation, some changes are intentionally made to kernel data structures. There are three types of modifications possible:
Syntax manipulation: Certain fields of kernel data structure are modified or changed.

Semantic manipulation: The semantics of the data structure are changed. Although they might not show any malfunction, the results produced by VMI will be irrelevant.

Combination of semantic and syntactic manipulation: This type of modification can result in VMI failure.
The above mentioned attacks can be implemented in various ways, as demonstrated previously by [19].
As stated in Section `Characteristic properties of VMI', ideal VMI techniques should place minimum overheads on the operation on the hypervisor and the involved system. This is important not just for performance but also for security. Recent malware and attack scripts have examined request-response parameters to detect underlying VMI installation. Timing-based attacks have tried to target out-of-bound memory and query system resources to record hypervisor replies. In many instances, the original drivers are faster than the drivers that are patched for the VMI technique. Such changes to the drivers by VMI techniques, may get noticed by malware and could be used as an alarm to take note of presence of VMI technique on VM.
Conclusion
Beginning with an introduction to the semantic gap problem, we have summarised distinct techniques developed for VMI. VMI has grown steadily over the past years. Based on the analysis of VMI techniques presented herein, it appears that the use of VMI is dominant in the security domain. In turn, this makes VMI susceptible to attacks. In the coming years, the security weaknesses of VMI will need to be addressed to enable widespread adoption by the industry.
VMI has great potential in the future development of malware detection tools and intrusion detection systems. Even cloud platforms could benefit from the use of VMI in imposing access right mechanisms.
Existing VMI tools have limited introspection capabilities. No one tool can provide process, memory, file and I/O introspection. In addition, the introspection capabilities of these tools are mostly dependent on the underlying hypervisor architecture. These architectural features are modified or replaced over time, making the application of these tools questionable in the current scenario.
Very limited work has been done to fully introspect HVM guests. Some performance improvement features of HVM guests, such as pass through drivers, place limitations on VMI implementation. Introspection using VT support has tremendous potential to enable VMI but requires additional work. The VMI technique based on VT support described in the current paper could be used in the security domain.
Endnotes
a The NX bit, which stands for Never eXecute, is a technology used in CPUs to segregate areas of memory for use by either storage of processor instructions (or code) or for storage of data
b Extended page table: This page table is part of the memory virtualisation support of the microprocessor. It contains maps of guest-physical addresses to host-physical addresses.
Authors' contributions
Both the authors made substantive intellectual contributions to the research and manuscript. AM carried out the survey of the available literature and drafted the manuscript. He is responsible for the overall technical approach and architecture, editing and preparation of the paper. ST provided insight and guidance in developing the VMI technique. She edited and revised the final manuscript. Both authors read and approved the final manuscript.
Declarations
Acknowledgements
Authors are grateful to the reviewers of this manuscript for their expert advice. Authors are thankful to Indian Institute of Information Technology & Management, Gwalior (IIIT, Gwalior) for support.
Authors' Affiliations
(1)
ABV- Indian Institute of Information Technology & Management, Gwalior, India
Copyright
© More and Tapaswi; licensee Springer. 2014
This article is published under license to BioMed Central Ltd. This is an Open Access article distributed under the terms of the Creative Commons Attribution License (http://creativecommons.org/licenses/by/2.0), which permits unrestricted use, distribution, and reproduction in any medium, provided the original work is properly credited.