A design space for dynamic service level agreements in OpenStack
Journal of Cloud Computing
Advances, Systems and Applications
2014
3:17
Received: 25 January 2014
Accepted: 04 June 2014
Published: 07 November 2014
Abstract
This paper does a systematic review of the possible design space for cloud-hosted applications that may have changing resource requirements that need to be supported through dynamic service level agreements (SLAs). The fundamental SLA functions are reviewed: Admission Control, Monitoring, SLA Evaluation, and SLA Enforcement - a classic autonomic control cycle. This is followed by an investigation into possible application requirements and SLA enforcement mechanisms. We then identify five basic Load Types that a dynamic SLA system must manage: Best Effort, Throttled, Load Migration, Preemption and Spare Capacity. The key to meeting application SLA requirements under changing surge conditions is to also manage the spare surge capacity. The use of this surge capacity could be managed by one of several identified load migration policies. A more detailed SLA architecture is presented that discusses specific SLA components. This is done in the context of the OpenStack since it is open source with a known architecture. Based on this SLA architecture, a research and development plan is presented wherein fundamental issues are identified that need to be resolved through research and experimentation. Based on successful outcomes, further developments are considered in the plan to produce a complete, end-to-end dynamic SLA capability. Executing on this plan will take significant resources and organization. The NSF Center for Cloud and Autonomic Computing is one possible avenue for pursuing these efforts. Given the growing importance of cloud performance management in the wider marketplace, the cloud community would be well-served to coordinate cloud SLA development across organizations such as the IEEE, Open Grid Forum, and the TeleManagement Forum.
Keywords
Service level agreementsAutonomic computingLive migrationOpenStack
Introduction
Service level agreements (SLAs) are used to define the necessary Quality of Service (QoS) for an application or user in an IT system. SLAs originally were defined as a contractual document between IT resource providers and consumers that involved cost analysis and pricing, along with financial incentives or penalties. For performance-critical applications, though, such contractual SLAs are not sufficient. Performance-critical applications require SLAs whereby the computing infrastructure monitors, detects, and responds to changes in demand to ensure that application-level processing requirements are met. Furthermore, changes in demand may be caused not just by new applications being instantiated, but also by changes in demand by the running applications themselves. Some applications may have unpredictable changes in their processing demands and associated service levels. Even if changes in demand are somewhat predictable, it would still be desirable for the cloud service provider to be able to accommodate such changes without having to renegotiate a new SLA.
Hence, dynamic SLAs are required. This will be particularly necessary in computing cloud that are, by nature, multi-tenant environments where many applications may have changing service level requirements. What we want to avoid is forcing users to over-specify their service level requirements in order to satisfy future changes in their demand. If users were allowed to do so, then applications would simply acquire excess resource capacity and then let it sit idle the vast majority of the time. This would effectively fragment the cloud capacity and reduce the overall utilization.
By providing dynamic SLAs, we are attempting to satisfy competing goals: (a) ensure that every running application component meets its deadlines, while (b) enabling the cloud scheduler to maximize resource utilization, thereby "doing more with less". By maximizing resource utilization, and understanding the possible aggregate surge requirements, it should be possible to do better overall capacity planning. That is to say, it should be possible to better determine the minimum amount of excessive surge capacity that needs to be available at any time. Doing so should help minimize the necessary overall cloud size, and reduce all associated costs, e.g., footprint, power, HVAC, staffing, etc.
Much work in cloud SLAs involves enforcing non-functional properties, such as compute node locality (zones), long-term storage preservation, and storage redundancy. For this white paper, however, we will focus just on performance metrics. Addressing non-functional properties will be addressed at a later time.
As noted already, the SLA mechanisms presented and discussed here will not be contractual in nature. That is to say, they will not involve two human organizations entering into an agreement for specific service levels between a provider and a consumer that carry penalties and rewards. We will also be considering performance management from both the consumer's and provider's perspective. We will not be considering one-sided goals, such as optimizing revenue. While many optimization problems, such as optimizing revenue [1], can be NP-hard requiring heuristic solutions, they do not address the performance requirements of individual user applications.
Hence, we will be developing technical, machine-enforceable SLA mechanisms, that a cloud provider can offer as a service, and a consumer can choose to use or not. These machine-enforceable mechanisms for dynamic SLAs will provide a probabilistic guarantee for performance. The goal is to provide the user with a reasonable expectation that performance requirements will be met, through mechanisms that are reasonable for the provider to implement and support for multiple applications.
In this paper, we begin by reviewing the fundamental functions necessary for SLAs and their enforcement. We then survey and investigate the possible design choices and implementation options. We conclude with a draft research and development for SLAs in OpenStack. While this particular R&D plan targets OpenStack as the test vehicle for planned work, any research results should be widely applicable to other cloud software stacks.
Fundamental SLA functions
Dynamic SLAs are actually an instance of an
autonomic control cycle: monitoring, analysis, planning, execution
- whereby systems can monitor themselves and maintain a target behavior [
2
]. In the context of dynamic SLAs, however, we will use the following four major functions:
Admission Control. When a user wishes to instantiate a new application, the user must specify the required performance parameters for each of the application components to be instantiated. The cloud provider must then make a determination whether if sufficient capacity is available to adequately service the new application once started. An application component may consist of multiple servers that communicate in a specific topology. Hence, the cloud provider must determine if there are adequate cycles, memory space, disk space, and disk bandwidth for each application server, along with adequate network bandwidth among them. If there is, then the application can be started.

Monitoring - Metrics Collection. While applications are running, the cloud infrastructure and the applications must be monitored. Monitoring must be as unobtrusive as possible, but must also capture essential data to determine if performance goals are being met. One or more monitoring systems could be used to collect data from different levels of the entire computing infrastructure. In a cloud environment, this could include monitoring the physical servers, hypervisors, the guest OSs, and the virtual applications themselves. While different monitoring systems could be used, all collected information must be collated and made available for the next functions.

SLA Evaluation. Once an SLA has been established, the application has been started, and various performance metrics are being collected, there must be an agent that compares the SLA targets with the observed metrics, and determines when an application's performance has gone, or is going, "out of spec". For contractual SLAs, this could be termed an SLA violation, but for dynamic SLAs, this more accurately denotes that simply a threshold has been crossed requiring a response. A key issue for this agent is how to map the SLA metrics to the observable metrics. SLA metrics may be expressed in units that are meaningful at the application level and a semantic gap may exist between the metrics that are actually being collected.

SLA Enforcement - Violation Response. An important issue for SLA Enforcement is whether an application's resource demands are expected to be static throughout its execution, or whether they can vary in a predictable or unpredictable manner. If an application's demands are expected to be relatively constant, then static throttling methods can be used. However, if an application's demands can vary, perhaps unpredictably, then it's behavior must be monitored to determine if it has gone "out of spec". For a performance-critical application, the primary goal of a machine-enforceable, dynamic SLA is to pro-actively bring the application back into compliance. This requires some type of "control knobs" on the infrastructure or on the application itself.
SLA design options and approaches
Within each one of these fundamental SLA functions, there are further technical design issues that must be addressed. For each there are usually several implementation options with different challenges and trade-offs. We now put these fundamental functions into a general SLA architecture, as illustrated in Figure
1
, and discuss them in more depth.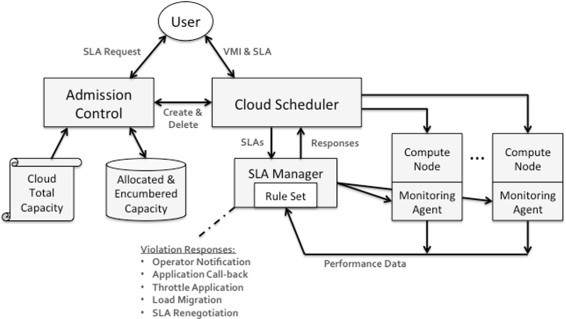 An SLA research and development plan
Having reviewed the fundamental SLA functions, and identified the available SLA enforcement mechanisms for OpenStack, along with the resulting Load Types, we now put all of this together into an architecture and a development plan.
An SLA architecture for OpenStack
Figure
4
presents an integrated SLA architecture for OpenStack. The User begins by sending an SLA request to the Nova-AC (Admission Control) service, using the standard WS-Agreement format. When Nova-AC is booted, it is initialized with the Total Capacity Document for this cloud. This document specifies the cloud's current total capacity, e.g., number and type of servers, amount of storage, network bandwidth, etc. The exact format of this document needs to be defined, but presumably it could follow the
SLA template
that the Nova-AC provides to potential users as part of the WS-Agreement process.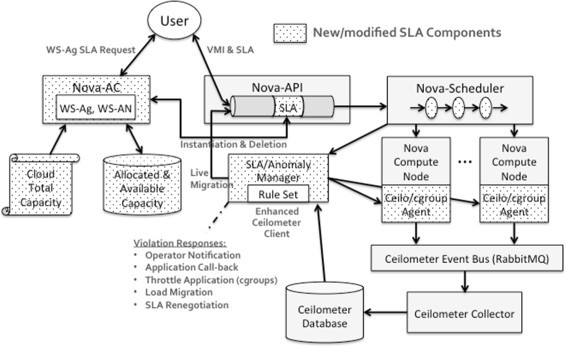 Based on the incoming SLA request, Nova-AC consults its database of allocated and available capacity. According to the discussion in Section 'Admission control', an admission control decision could be made simply by identifying a host where there is sufficient cycles and network bandwidth available, according to the requested Load Type (without having to maintain more complicated, graphical representations). If multiple rounds of negotiation are required, the WS-Agreement Negotiation [8] standard defines how this can be done.
Once the User essentially has an "SLA offer", the Virtual Machine Image and the SLA are submitted through the Nova-API to the Nova-Scheduler. Like all OpenStack services, the Nova-API is designed using a configurable command pipeline. When booted, the command pipeline can be configured with different pipeline stages to include or omit different functionalities. To support SLAs, a new SLA pipeline stage will be included. When any operation involving an SLA is encountered, Nova-API will inform Nova-AC of the change in resources being allocated or released. It will likewise inform the SLA Manager of the same changes.
When VMs are actually being allocated, the Nova-Scheduler uses a
Filter and Weight
approach, as illustrated in Figure
5
. To choose the host on which to allocate a VM, Nova-Scheduler first applies a set of filters to identify which hosts are possible candidates. A set of weighting functions are then applied to rank the candidates and identify the best one. This design allows OpenStack to support many different scheduling paradigms, depending on the filters and weighting functions available. OpenStack currently support several basic scheduling algorithms, e.g., random placement, random placement within an availability zone, and placement on the least loaded host. To support SLAs, additional SLA Filtering and Weighting functions will need to be written that makes the correct selections based on the SLA Load Type and capacity requested.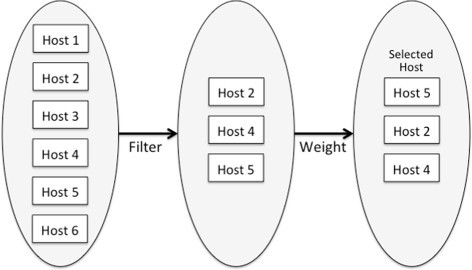 Once instantiated on a host compute node, a monitoring agent will have to be used to acquire the necessary performance information. Ceilometer is the OpenStack monitoring service under development. This uses the same RabbitMQ [27] instance used by Nova to collect all performance information and deposit it in a database. Other monitoring tools, besides Ceilometer, could be used. Zenoss, for instance, is much more mature than Ceilometer and offers many ZenPacks that can be installed to monitor many different parts of a system software stack, e.g., Apache Tomcat servers, PostgresSQL databases, and Java SNMP, just to name a few examples. Nonetheless, for initial development and evaluation purpose, Ceilometer could be used completely adequate.
Based on the Load Type requested, the SLA Manager will look for specific performance metrics from different host servers. For Type II throttled work loads, a mechanism, such as cgroups[28] in Linux, could be used. Linux cgroups allow hierarchical control groups to be defined. Each control group is associated with a limit on the amount of resources that can be consumed on that server, e.g., the percentage of cpu time, memory, disk IO, and network IO. These limits are actually enforced by tools such as Linux CPUsets[29]. User processes are assigned to different control groups based on the limit of resources they are allowed to consume. The operating system then enforces those limits when scheduling a process to run. To use this mechanism, the SLA Manager will have to manage the available cgroups on a specific servers, and which VM processes are assigned to them.
For Type IIla and IlIb work loads, the SLA Manager will need to employ live migration to enforce policy. Live VM migration can generally be done transparently to the running applications. However, the time required for a live migration depends on the amount of memory currently in use by a VM,
Mem
, the number of open file descriptors (i.e., open files and network connections),
nOpenConn
, and the available network bandwidth,
BW
, between the current host and the migration target host.
Further refinements to this relationship can be made. The performance costs of live migration can also depend on the internal details of the cloud implementation, such as the type of hypervisor used, as well as the storage and memory architectures [30]. A truly flexible SLA control architecture will allow for selection of the application parameters for which the cost model should be tuned.
Even if live migration is otherwise transparent to the application, this time delay may precipitate, or contribute to, an SLA violation. This underscores the importance of accurately evaluating T m i g r a t i o n that applications may encounter, and how it may affect their SLAs. It may also be the case that CPU-intensive applications may be easier to migrate than ones that are highly inter-connected. Hence, a key goal will be to develop an accurate and predictive model of live migration that takes in all of these possible factors, and can be used to support different migration policies.
Finally we note that using the SLA architecture described here to effectively manage cloud resources will require a certain population of Load Types. That is to say, processes and VMs of each Load Type must be represented in some number and distribution whereby a cloud scheduler can effectively use them to manage the overall cloud utilization, while ensuring that individual application performance requirements are being met. This will be especially true for Load Types III and IV where back-fill scheduling is used to improve utilization. Experimentally determining workable Load Type populations will only be possible once there is a significant SLA architecture in place.
A research and development plan
With these design options and goals in mind, we now present a draft development and test plan. Clearly this SLA system will depend on Linux cgroups and live migration in OpenStack. cgroups are an established capability, so that is considered to be low risk. Live migration in OpenStack, however, is still maturing.
Live migration has been demonstrated in the OpenStack Folsom release, using KVM with libvert on ubuntu 10.09 or 12.04. Live migration using Xen has also been reported. The initial use for live migration in OpenStack, however, is not load balancing or SLA enforcement. Rather it will be used for VM evacuation. This is for basic server maintenance purposes, where all running VMs can be moved off of a server to allow software upgrades, hardware replacement, or other routine maintenance functions to be done. Server evacuation is currently intended to be manually managed by cloud administrators.
Given that the basic live migration capability has been demonstrated in OpenStack (since Folsom) for manual maintenance purposes, it should be possible to add the SLA "intelligence" whereby live migration can be used for performance management. Hence, we defined the sequence of tasks for the Research and Development Plan given below. This plan starts by building and evaluating just the core SLA enforcement mechanisms (Tasks 1 and 2). We must first show that these mechanisms are effective in providing reasonable guarantees of application performance. Once that is established, we can then consider building the rest of the supporting SLA management tools, i.e., Tasks 3, 4, 5 and 6. Proposing specific schedule milestones and budget are outside the scope of this paper.
A Research and Development Plan
1.

Build Core Enforcement Infrastructure

Install Ceilometer on existing OpenStack cloud

Build a basic SLA Manager by enhancing the Ceilometer client

Periodically queries database for specific metrics

Applies rule sets to detect specific performance conditions on a per application basis

Demonstrate process throttling with cgroups

Demonstrate processes and VMs live migration

2.

Demonstrate SLA Manager Capabilities

Build/construct synthetic/manufactured work loads

Provide work loads programmed to go through variable changes in demand

Build work load scenarios relevant to various application domains

Develop and evaluate migration policies

Assess migration parameters: spare capacity, migration time, load reduction/correlation, etc.

Evaluate how well live migration can be managed (inter-migration time)

Develop accurate, predictive model(s) of migration overhead

Compare process migration vs. VM migration

Evaluate overhead, responsiveness, and stability

How much overhead does monitoring incur to produce useful information

Evaluate how quickly can the system respond to and maintain SLA targets

Evaluate responsiveness vs. stability trade-off

3.

Develop Nova-AC Service

Develop common WS-Agreement term language

Develop Total Cloud Capacity Document

Develop Allocated Capacity Document

Investigate semantic mapping from application-level requirements to infrastructure-level metrics

4.

Develop Nova-API Pipeline Stage

Establish interaction with Nova-AC and SLA Manager when instantiating application VMs

Enable accurate tracking of allocated and available capacity

Enable live migration managed by SLA Manager

5.

Develop Nova-Scheduler SLA Functions

Develop the filtering and weighting functions to identify the best host for relevant Load Types

6.

Demonstrate End-to-End Integrations

Develop or acquire non-trivial "operational-like" work loads

Manage SLAs for multiple apps simultaneously

Demonstrate that individual application requirements can be met while managing overall cloud requirements, e.g., utilization

Evaluate minimal population of Load Types (number and distribution) to effectively manage overall cloud resources

7.

Develop and Evaluate Learning Algorithms

Identify all relevant system metrics necessary understand and control system behavior

Evaluate the trade-off between the length of training period versus eventual effectiveness

Develop and evaluate methods for enabling exploration actions that do not adversely affect operational systems

8.

Develop and Evaluate Distributed SLA Managers

Evaluate P2P and hierarchical organizations

Develop and evalaute distributed SLA models, ultimately including learning algorithms

Evaluate overhead, responsiveness, stability of distributed SLA methods
Summary and recommendations
This paper has reviewed the basic requirements for providing dynamic service-level agreements, and developed a draft plan for implementing and evaluating such dynamic SLAs in OpenStack. This SLA architecture does require that applications understand what their own resource requirements are. For some existing applications, this information may be difficult to acquire. When an application is deployed on dedicated hardware, there may have been no provision for determining the actual requirements of each application component. As long as an application component never became an egregious bottleneck, everything was fine.
The proposed SLA architecture could, in fact, be used to determine a application's actual requirements. Without specifying or enforcing SLAs in a separate test environment, the monitoring infrastructure could simply catalog the application's behavior over time and various "operational" conditions. Once known, the application could be moved to an SLA-controlled infrastructure with appropriate SLAs in force. In any case, any further work should leverage other relevant projects in the overall cloud marketplace. The NSF Center for Cloud and Autonomic Computing has a number of projects concerning cloud SLAs [31].
The European Union has reported the results of a number of research projects, ranging from business-level SLAs to scientific SLAs [32]. These include the OPTIMIS [33], CONTRAIL [34], and SLA@SOI [10] projects. Given the wide interest in SLAs and the recognition that SLAs will be critical for a wide segment of the cloud marketplace, the TeleManagement Forum (TMF) has started an SLA working group [35] to develop industry best practices and standards, using the OGF WS-Agreement and WS-Agreement Negotiation as a starting point [36]. With these developments, the OpenStack community might eventually incorporate support for some form of dynamic SLAs.
Declarations
Acknowledgments
The authors gratefully acknowledge the many useful comments from the organizers and participants of the 3rd International Workshop on Intelligent Techniques and Architectures for Autonomic Clouds (ITAAC 2013) that improved the scope and completeness of this paper.
Authors' Affiliations
(1)
Computer Systems Research Department, The Aerospace Corporation, El Segundo, USA
(2)
High Performance Computing Center, Texas Tech University, Lubbock, USA
Copyright
© Lee and Sill; licensee Springer. 2014
This article is published under license to BioMed Central Ltd. This is an Open Access article distributed under the terms of the Creative Commons Attribution License (http://creativecommons.org/licenses/by/2.0), which permits unrestricted use, distribution, and reproduction in any medium, provided the original work is properly credited.