A survey on securing the virtual cloud
Journal of Cloud Computing: Advances, Systems and Applications
Advances, Systems and Applications
2013
2:17
Received: 3 June 2013
Accepted: 30 October 2013
Published: 6 November 2013
Abstract
The paper presents a survey and analysis of the current security measures implemented in cloud computing and the hypervisors that support it. The viability of an efficient virtualization layer has led to an explosive growth in the cloud computing industry, exemplified by Amazon's Elastic Cloud, Apple's iCloud, and Google's Cloud Platform. However, the growth of any sector in computing often leads to increased security risks. This paper explores these risks and the evolution of mitigation techniques in open source cloud computing. Unlike uniprocessor security, the use of a large number of nearly identical processors acts as a vulnerability amplifier: a single vulnerability being replicated thousands of times throughout the computing infrastructure. Currently, the community is employing a diverse set of techniques in response to the perceived risk. These include malware prevention and detection, secure virtual machine managers, and cloud resilience. Unfortunately, this approach results in a disjoint response based more on detection of known threats rather than mitigation of new or zero-day threats, which are often left undetected. An alternative way forward is to address this issue by leveraging the strengths from each technique in combination with a focus on increasing attacker workload. This approach would make malicious operation time consuming and deny persistence on mission time-scales. It could be accomplished by incorporating migration, non-determinism, and resilience into the fabric of virtualization.
Keywords
Vulnerability amplifierMalware prevention and detectionSecure virtual machine managersCloud resilienceZero-dayIncreasing attacker workloadVirtual machineView comparison-based malware detection
Introduction
Virtualization of servers in the cloud operates by adding a new layer to the software stack known as the hypervisor [1] or Virtual Machine Monitor (VMM) [2]. The hypervisor encapsulates the hardware, allowing it to be used by multiple operating system instances concurrently. This flexibility, coupled with the cost and performance advantages of sharing the underlying hardware, has revolutionized the computing industry: large numbers (i.e. hundreds of thousands) of generic hardware platforms, using multi-core blade technology, are now coupled through high-performance networking to produce a generic computing surface. Any subset of this collection can be combined to operate in tandem for a particular application using a multitude of operating systems.
Conceptually, the hypervisor presents a virtual machine abstraction that restricts malicious code, executing within one instance of an operating system, from affecting a different instance. Unfortunately, hypervisors have introduced their own new security challenges: Adversaries now actively attempt to detect the presence of an operating hypervisor in order to tailor attacks accordingly [3]. A wide range of hypervisor detection techniques have already appeared against popular systems such as VMWare, VirtualPC, Bochs, Hydra, Xen, and QEMU [4]. Often, these techniques operate by exploiting timing differences between virtualized and non-virtualized operations [5]. Alternatively, they detect unusual memory locations associated with key operating system data structures [6]. For example, the Red Pill technique works by using the SIDT X-86 instruction to determine the location in memory of the interrupt descriptor table; a machine running above a hypervisor will return a location much higher in memory than one that is not [7]. Following hypervisor detection, the adversary then attacks either the operating system, the virtual switch (vSwitch) sharing network connectivity between virtual machines, or the hypervisor itself [8].
The presence of a hypervisor has no impact on the vulnerabilities associated with the operating system. As a result, any exploit that leverages a known vulnerability will still operate successfully [9]. Although, a remote exploit gives the adversary control of a single virtual machine, by using the exploit in a virus the entire cloud could be compromised. It is this vulnerability amplification that poses the most significant threat to the future of cloud computing.
Direct attacks against a vSwitch may undermine the operation of multiple virtual machines on a single host by denying connectivity to all of them simultaneously. The vSwitch provides the same functionality as a physical switch and in consequence exhibits the same vulnerabilities, enabling the same exploits [10]. For example, Address Resolution Protocol (ARP) spoofing, involves the interception of valid network packets by sending fake ARP packets to a switch [11].
Hypervisor attacks involve the direct exploitation of vulnerabilities in the hypervisor. All virtual machines executing on a hypervisor have distinct data structures, separated in hardware. This separation forms a semantic gap [12] that prevents virtual machines from having visibility or impact upon each other's data structures [13]. Direct Kernel Structure Manipulation (DKSM) bridges the semantic gap by patching virtual machine data structures and redirecting hypervisor accesses to shadow copies. This allows the virtual machine to present false information to the hypervisor regarding the virtual machine state, allowing implants, such as rootkits [14], to persist without detection.
Virtualization provides inherent redundancy and appears to provide robust, large-scale, cost-effective availability of shared resources [
15
]. However, this perception is tempered by the known risk of vulnerability amplification and the paucity of knowledge regarding zero-day exploitation in clouds: history has shown that lack of detection does not imply lack of infection. Current mitigation techniques reviewed by this paper have already evolved based on
malware detection and prevention
,
secure virtual machine managers
, and
cloud resilience.
These three categories and their roles in preventing an attacker from gaining access to the cloud is illustrated in Figure
1
. Omitted from Figure
1
are cloud services that provide authentication such as lightweight active directory protocol servers and trusted computing techniques as they are outside the scope of this survey. Initially, the attacker has to overcome or bypass the intrusion detection and prevention systems typically employed at the cloud boundary. They are then faced with a secure hypervisor usually installed on a single host; whose purpose is to restrict access to kernel and hypervisor data structures. Finally, cloud resilience is used by a host to restore a single compromised or failed virtual machine to a known good state. Although not currently prevalent throughout the industry, hypervisors offer the opportunity to restrict the attacker's access to the base of the software stack. Since typically the number of vulnerabilities is directly related to the number of source lines of code [
16
], this would allow tight control of the hardware and allow operating system designers to build successive layers on a secure base of trust. The small size of the hypervisor also opens the door to formal reasoning concerning its security properties [
17
]. Unfortunately, these ideas have yet to be cohesively integrated and their impact upon security quantified. In the sections that follow we explore the building blocks that are available for improving cloud security and assess them on the basis of their
performance impact,
ability to
reduce the attack surface
,
detect known and zero-day threats
,
resolve detected threats
, and
increase attacker workload
by denying either surveillance or persistence.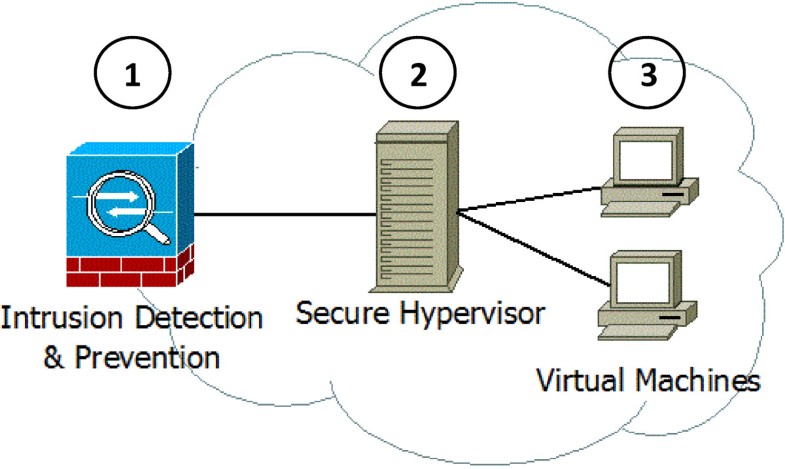 Conclusion
All of the techniques reviewed in this paper have produced gains in making cloud computing more secure. Most of the solutions strive to race to the bottom of the software stack to combat known risks, rather than unknown zero-day risks. Moreover, it is currently left up to the cloud provider to pick from a grab bag of techniques to secure their infrastructure. This has led to a diverse set of approaches in cloud security, each with its own goals. The most successful approaches could be combined to build new cloud infrastructure. A starting point would be to begin with the idea of resilience as discussed in this paper. Non-determinism could then be added through process specific virtual machines. Multiple copies of these machines could refresh some processes in a non-deterministic manner. Lastly, secure migrations of processes and whole virtual machines can be added. Combining all these techniques could provide a cloud computing environment that drastically increases attacker workload.
Notice
The U.S. Government is authorized to reproduce and distribute reprints for Governmental purposes notwithstanding any copyright notation thereon. The views and conclusions contained herein are those of the authors and should not be interpreted as necessarily representing the official policies or endorsements, either expressed or implied, of the Defense Advanced Research Projects Agency (DARPA) or the U.S. Government.
Declarations
Acknowledgements
This material is based on research sponsored by the Defense Advanced Research Projects Agency (DARPA) under agreement number: FA8750-11-2-0257.
Authors' Affiliations
(1)
Thayer School of Engineering at Dartmouth College, Hanover, America
Copyright
© Denz and Taylor; licensee Springer. 2013
This article is published under license to BioMed Central Ltd. This is an open access article distributed under the terms of the Creative Commons Attribution License (http://creativecommons.org/licenses/by/2.0), which permits unrestricted use, distribution, and reproduction in any medium, provided the original work is properly cited.