Fog computing security: a review of current applications and security solutions
Journal of Cloud Computing
Advances, Systems and Applications
2017
6:19
Received: 15 May 2017
Accepted: 8 August 2017
Published: 16 August 2017
Abstract
Fog computing is a new paradigm that extends the Cloud platform model by providing computing resources on the edges of a network. It can be described as a cloud-like platform having similar data, computation, storage and application services, but is fundamentally different in that it is decentralized. In addition, Fog systems are capable of processing large amounts of data locally, operate on-premise, are fully portable, and can be installed on heterogeneous hardware. These features make the Fog platform highly suitable for time and location-sensitive applications. For example, Internet of Things (IoT) devices are required to quickly process a large amount of data. This wide range of functionality driven applications intensifies many security issues regarding data, virtualization, segregation, network, malware and monitoring. This paper surveys existing literature on Fog computing applications to identify common security gaps. Similar technologies like Edge computing, Cloudlets and Micro-data centres have also been included to provide a holistic review process. The majority of Fog applications are motivated by the desire for functionality and end-user requirements, while the security aspects are often ignored or considered as an afterthought. This paper also determines the impact of those security issues and possible solutions, providing future security-relevant directions to those responsible for designing, developing, and maintaining Fog systems.
Keywords
Fog computingSecurity threatsInternet of thingsPerformanceWireless securityMalware protection
Introduction
Fog computing is a decentralized computing architecture whereby data is processed and stored between the source of origin and a cloud infrastructure. This results in the minimisation of data transmission overheads, and subsequently, improves the performance of computing in Cloud platforms by reducing the requirement to process and store large volumes of superfluous data. The Fog computing paradigm is largely motivated by a continuous increase in Internet of Things (IoT) devices, where an ever increasing amount of data (with respect to volume, variety, and velocity [1]) is generated from an ever-expanding array of devices.
Cloud computing provides many benefits to individuals and organizations through offering highly available and efficient computing resources with an affordable price [4]. Many cloud services are available in current commercial solutions, but they are not suitable for latency, portability and location-sensitive applications, such as IoT, Wearable computing, Smart Grids, Connected Vehicles [5] and Software-Defined-Networks [6]. Latency depends on the speed of Internet connection, resource contention among guest virtual machines (VM) and has been shown to increase with distance [7]. Furthermore, such applications generate large volumes of varied data in a high velocity, and by the time data reaches a cloud system for analysis, the chance to inform the IoT device to take reactive action may be gone. For example, consider IoT devices in the medical domain where the latency of acting on the sensed data could be life-critical.
Many researchers and commercial infrastructure developers believe that Fog platforms will be developed and released in the future to provide an enriched and more reliable infrastructure to handle the ever increasing expansion of connected computational devices. However, as with all distributed systems, the exposure to cyber threats is also prevalent and often heightened by the developer's desire to provide functional systems first, and then add-in security measures afterwards. Many researchers are adopting a security-centric or secure by design [15] philosophy for producing such distributed systems. But this viewpoint is still in its infancy and lacks in comprehensive understanding of the security threats and challenges facing a Fog infrastructure. This paper provides a systematic review of Fog platform applications, determines their possible security gaps, analyses existing security solutions and then put forwards a list of comprehensive security solutions that can eliminate many potential security flaws of Fog systems. The literature used in this paper is gathered using the Google Scholar search engine. The keywords used to find the literature are "Fog computing", "Fog computing applications", "Fog computing security", "Fog security issues" and "Fog security". The time frame of selected papers is up to June, 2017. To best of our knowledge, we reviewed all papers which were displayed in the search engine at that time. In addition to that, we broadened the survey by including several relevant research areas as Fog computing is still in its infancy stage. Other search terms were also used to search closely related developments subject areas. These include "edge computing", "cloudlet", "micro data centre" and "Internet of Things".
The paper is structured as follows: In the following section, a comprehensive review of literature is performed to identify established implementations of Fog and its similar systems. It also discusses the potential security threats that have not been acknowledged. Following this, a summary is provided to classify common shortcomings and to highlight their significance. We also provide a discussion of potential mitigation mechanisms. Finally, we conclude by providing a discussion of the identified shortcomings, motivating future research.
Related work - current fog applications
Existing security solutions for Fog computing
As determined in the above sections, the introduction of Fog platform functionality between end-users and the Cloud systems creates a new point for vulnerabilities, which can potentially be exploited for malicious activities. Unlike for Cloud systems, there are no standard security certifications and measures defined for the Fog computing. In addition, it could also be stated that a Fog platform:
Has relatively smaller computing resources due to their very nature and hence it would be difficult to execute a full suite of security solutions that are able to detect and prevent sophisticated, targeted and distributed attacks;

Is an attractive target for cyber-criminals due to high volumes of data throughput and the likelihood of being able to acquire sensitive data from both Cloud and IoT devices; and

Is more accessible in comparison with Cloud systems, depending on the network configuration and physical location, which increases the probability of an attack occurring.
The real-world applications of Fog computing and similar technologies, which are surveyed in "Related work - current fog applications" section, are mostly motivated by functionality. However, it has also been identified that in most cases potential security measures against that can be implemented to mitigate threats are ignored. A potential reason for this is that the security issues facing Fog systems is an infant research area, and only few of solutions are available to detect and prevent malicious attacks on a Fog platform. The below section provides an overview of such systems.
Recommended security measures and future challenges
In the light of above literature review, this section presents the security knowledge gaps that should be covered to build a reliable, applicable and trustworthy Fog platform. Despite having large potential and number of applications, there is a lack of security solutions available for Fog system developers and designers. However, as Cloud computing and many similar technologies (albeit centralised systems) resemble the working mechanism of Fog computing, they can provide a deeper insight into the security threats and solutions. Even though each Fog deployment has a different set of security requirements, applications and sensitivity, the following subsections provide a comprehensive, efficient and applicable security solutions, which are gathered and tested on various systems. They can also be used as generic best practise guidelines while developing the Fog software, so that the security is enabled from within the platform. Table
3
presents a summary of the relationship between the following proposed security solutions and the twelve categories ("
Review methodology
" section) of security threats used throughout this paper.
Table 3
Security solutions that can resolve twelve potential security issues in Fog implementations
| Security solution | APT | ACI | AH | DoS | DB | DL | IA | SAV | MI | IDD | ANU | STI |
| --- | --- | --- | --- | --- | --- | --- | --- | --- | --- | --- | --- | --- |
| Data encryption | | | | | ✓ | ✓ | | | ✓ | ✓ | | |
| Preventing cache attacks | | | | | ✓ | | ✓ | ✓ | | | | |
| Network monitoring | ✓ | ✓ | | ✓ | ✓ | | | | ✓ | ✓ | ✓ | ✓ |
| Malware protection | | | ✓ | | | ✓ | ✓ | ✓ | | | | ✓ |
| Wireless security | ✓ | ✓ | | | ✓ | | | | | | ✓ | |
| Secured vehicular networks | ✓ | ✓ | ✓ | ✓ | | | | | | | | ✓ |
| Secured multi-tenancy | | ✓ | ✓ | | ✓ | | ✓ | | ✓ | | ✓ | ✓ |
| Backup and recovery | | | | | | ✓ | | | | ✓ | | |
Conclusion and future work
The purpose of this study was to review and analyse real-world Fog computing applications to identify their possible security flaws. To provide a holistic review, Fog related technologies like Edge computing and Cloudlets are also discussed. It was discovered that most Fog applications do not consider security as part of system, but rather focus on functionality, which results in many Fog platforms being vulnerable. Literature also details that Fog computing has a wide potential and range of applications that all demand a high level of security to protect the CIA of the customer data. Fog platforms are a relatively new paradigm, and this study can help readers and developers to foresee security measures and their challenges, while envisaging the design of new Fog systems. Table
4
summarises the discussion of how recommended security solutions (see Section
Recommended security measures and future challenges
) might be able to prevent, detect and pro-actively defend against the threats stated in Table
2
. The aim of these security solutions is to protect the CIA of entire Fog system and its users. Additionally, Fig.
4
illustrates the possible security solution categories with respect to various components of Fog infrastructure, residing between IoT devices and Cloud.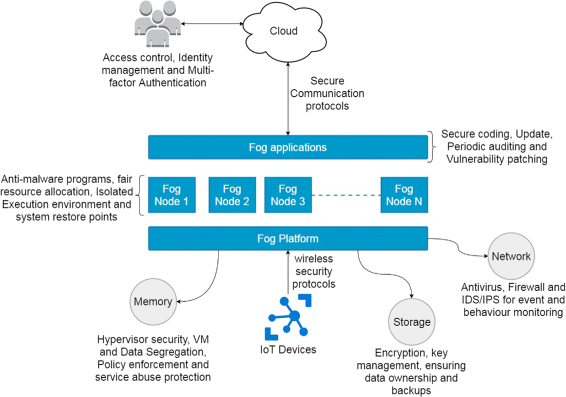 Table 4
Summary of recommended security solutions and impact on CIA
| Solution category | Resolves | Benefits |
| --- | --- | --- |
| Data Encryption | Malicious insiders Data Breach Data Loss Insufficient Due Diligence Spyware/malicious processes | If data is breached either at rest, processing or motion, encryption will keep the original data hidden from unauthorized recipients |
| Preventing cache attacks | Insecure API Service and application vulnerabilities Sensitive data Leakage Sniffing attacks | If a Fog platform is acting as cache server, the frequently accessed (relevant and sensitive) data by users or other systems via Fog will remain private |
| Network monitoring | Advance Persistent Threats Access control issues Denial of Service attack Malicious Insiders Insufficient Due Diligence Abuse and Nefarious use of resources Data Breaches Attack detection | Can immediately notify about the ongoing attack, log malicious events for analysis, block suspicious ingress/egress network traffic and determine/indicate overall health and performance of system |
| Malware protection | Account Hijacking Insecure API Service and application vulnerabilities Data corruption/damage risks Shared Technology Issues Performance degradation | Provides real-time scanning and removal of known malicious applications (static analysis), protects against zero-day exploits by intelligent event/behaviour monitoring (dynamic analysis) and ensures consistent performance of the Fog platform |
| Wireless security | Advance Persistent Threats Access control issues Data breach Eavesdropping attacks Illegal bandwidth consumption | Fog nodes can increase their mobility in secure manner, enables more IoT devices to connect from anywhere and allows the Fog platform to become more cost effective |
| Securing vehicular networks | Advance Persistent Threats Access control issues Account/Session Hijacking Denial of Service attacks User identity protection | Increases road safety by preserving data communication integrity while keeping the user identity and location data private |
| Secured multi-tenancy | Access control issues Account Hijacking Insecure APIs Malicious Insiders Abuse and Nefarious use of resources Data Breaches Segregation Issues | Secure data collaboration among approved users, prevention of memory escaping/hopping attacks to protect each user's space and increase in efficient use and allocation of Fog resources |
| Backup and recovery | Data Loss Data unavailability issues Insufficient Due Diligence Malware infection Data integrity issues | In case of natural disaster, malware infection or DoS attack, the data will remain available to users and system along with its integrity |
Future work could lead towards the development of a knowledge-based supplementary and aid system, which can provide decision support services for developers in designing a secure and performance efficient Fog infrastructure. Such a decision support system would require a large systematic knowledge acquisition of best practices, known security threats and their solutions, which can be formalized as either statistical-based system or rules, policies and facts [149]. The system would also require an inference engine that can provide and explain suitable solution or advice, considering the given application scenario (current context) and available knowledge. A Fog platform is connected with both end-users and Cloud platform along with processing, storing and transmitting large volumes of data by consuming limited amount of resources. It is therefore of key importance that security measures are correctly adhered to overcome the potential limitations identified in this paper. Hence, the use of a decision support tool that is capable of advising security measures to developers can prevent the occurrence of vulnerabilities pro-actively and save the Fog platform from potential damage.
Declarations
About the Authors
Saad Khan is pursuing Ph.D. in the School of Computing and Engineering from University of Huddersfield, UK. His research interests are in developing secure Fog/Cloud platforms with better performance, increasing the efficiency of security solutions by using artificial intelligence techniques, and other closely related areas.
Simon Parkinson is a Senior Lecturer in Informatics within the school of Computing and Engineering at the University of Huddersfield, UK. His research interests are artificial intelligence and cyber security, focussed on various aspects such as access control, vulnerability management, learning domain knowledge and mitigation planning.
Yongrui Qin is a Lecturer of Knowledge and Information Systems in School of Computing and Engineering, University of Huddersfield, UK. His main research interests include Internet of Things, Web of Things, Semantic Web, data management, data mining and mobile computing.
Authors' contributions
This research work is a part of SK Ph.D. work, which is being conducted under the supervision of SP. The paper presents extensive review about the Fog computing applications, current security threats and proposes comprehensive techniques to increase the security of overall Fog platform. The work presented in this paper were carried over the past 8 months. All authors read and approved the final manuscript.
Competing interests
The authors declare that they have no competing interests.
Publisher's Note
Springer Nature remains neutral with regard to jurisdictional claims in published maps and institutional affiliations.
Open Access This article is distributed under the terms of the Creative Commons Attribution 4.0 International License(http://creativecommons.org/licenses/by/4.0/), which permits unrestricted use, distribution, and reproduction in any medium, provided you give appropriate credit to the original author(s) and the source, provide a link to the Creative Commons license, and indicate if changes were made.
Authors' Affiliations
(1)
Department of Informatics, School of Computing and Engineering, University of Huddersfield, Huddersfield, UK