Experiences in building a mOSAIC of clouds
Journal of Cloud Computing: Advances, Systems and Applications
Advances, Systems and Applications
2013
2:12
Received: 12 January 2013
Accepted: 7 May 2013
Published: 24 May 2013
Abstract
The diversity of Cloud computing services is challenging the application developers as various and non-standard interfaces are provided for these services. Few middleware solutions were developed until now to support the design, deployment and execution of service-independent applications as well as the management of resources from multiple Clouds. This paper focuses on one of these advanced middleware solutions, called mOSAIC. Written after the completion of its development, this paper presents an integrated overview of the mOSAIC approach and the use of its various software prototypes in a Cloud application development process. We are starting from the design concepts and arrive to various applications, as well as to the position versus similar initiatives.
Keywords
Cloud ComputingVirtual MachineCloud ServiceService Level AgreementCloud Provider
Introduction
The story of mOSAIC (Open-source API and Platform for Multiple Clouds) starts in Spring 2009 when its idea emerged. The main challenges for Cloud Computing identified to that moment, as shown in [1, 2], were application and data interoperability and portability, governance and management, metering and monitoring, as well as security. In the meanwhile some partial solutions addressing these challenges have proposed, however, according to a recent report [3], these challenges still exist. The key goal of mOSAIC is to offer a solution for application portability and interoperability across multiple Clouds. However, the complete mOSAIC' solution addresses partially also the other challenges, management, governance, and security, as will be revealed in what follows.
The mOSAIC' solution is a result of a multi-national team effort as part of a grant agreement with the European Commission in the frame of FP7-ICT programme [
4
] (details on the project web site [
5
]). The implementation has started in September 2010 and the final software was released in March 2013. The promises made in the early stage of development were described in the position paper 'Building a mOSAIC of Clouds' [
6
]:
1.

Design a language- and vendor-agnostic application programming interface for using multi-Cloud resources and Cloud usage patterns.

2.

Design a generic agent skeleton for representing various stakeholders, e.g. Cloud vendors and their resources, Cloud users of various types, and a collection of modules that can be used to adapt agent skeleton to support needed functionalities.

3.

Design user-centric service level agreements, a Cloud ontology, and mechanisms for dynamic negotiation of resources based on multi-agent technologies and semantic data processing.

4.

Build an open-source and portable platform for using Cloud services based on the proposed API and Cloud usage patterns.

5.

Build proof-of-concept applications with a special emphasis on data intensive applications.
These scientific and technical goals were related with the time's lack of (a) common programming model for Cloud-oriented applications, (b) of tools for easy deployment of scalable applications and (multi)-Cloud-based services, (c) of standard representation for Cloud resources, (d) of adequate service level agreements and their dynamic negotiation, (e) of application portability due to different APIs for Cloud services from different providers.
A variety of reports on mOSAIC's particular software solutions have been presented at recent scientific conferences and in journal papers. The current paper intends to provide an overview of the full and integrated solution with exhaustive references to literature where details can be found. Therefore the main contribution of this paper consists in the high-level description of the mOSAIC's approach and the answers to the current challenges in the Cloud computing domain by the mOSAIC's technical solutions.
The paper is organized as follows. The first part is a description of the overall mOSAIC's approach for solving the current problems of using multiple Clouds. The second part concerns the mOSAIC's positioning in the landscape of Cloud computing services. The third part is dedicated to a discussion of the possible future developments and improvements.
The mOSAIC's approach
This section explains in details how the mOSAIC solution matches the key scientific and technical goals that were outlined in the introduction.
APIs and patterns
Several open API are already available (like jclouds, libcloud, OpenStack, most of them develop in parallel with mOSAIC) offering a management layer for the resources of same type from multiple Clouds (based on a common denominator of their APIs). However the services are restricted to a specific language (like Java), a specific architectural style (like REST oriented) or specific type of resources (like virtual machines).
Component-based programming
The component model provides a natural abstraction for programming and execution of Cloud applications, since is lightweight and flexible in terms of APIs, according [7]. However, component frameworks that are expected to provide design-time and run-time infrastructures in Clouds are few. A short preliminary analysis of the existing solutions was done for mOSAIC positioning purpose and is reported in [8]. This analysis revealed that a proof-of-concept implementation of a component framework for Clouds only for Java [9] was developed in parallel with mOSAIC.
The mOSAIC's API offers a simple way to develop components which run on the top of its platform. The programming model of mOSAIC is based on using loosely coupled components. A mOSAIC component represents an entity controlled by the user: the entity is configurable, exhibits a well defined behavior, implements application dependent functionalities and exposes them to other components. When an instance of a mOSAIC component runs in a Cloud environment, it consumes hardware or software resources, e.g. state-full resources hosted by Cloud service provider and accessible through dedicated APIs. The communication among moSAIC components takes place through message queues, e.g. using the AMQP [10] protocol or the Amazon's SQS [11].
The mOSAIC's basic component is the Cloudlet (first introduced in [12]). A Cloudlet is an event-driven and stateless component whose functionalities do not depend on the number of its instances at run-time (has a degree of autonomy). The Cloudlets can get automatic support for their life-cycle from the mOSAIC's platform including initialization, configuration and bindings to the needed hardware and software resources. Moreover, Cloudlets should be able to run in a Cloud environment independently from other components. Furthermore, Cloudlets are started, stopped, replaced, or multiplied at run-time for the application performance improvement. Multiple instances of the same Cloudlet are therefore expected to be supported by an application. Consequently, the elasticity concept, specific for Cloud computing, is applied at the level of application in the mOSAIC approach.
The Cloudlets are able to access Cloud services through Connectors. The concept of Connector is introduced to ensure the independence from the Cloud service interfaces. A Connector is a concrete class that abstract the access to Cloud resources and defines the set of events to which the Cloudlet should react; its behavior is similar to a remote procedure call, and it offers the functionality of the common denominator of a certain type of Cloud service. For example, in the mOSAIC library for Java there is only one Connector for key-value stores.
The Connectors access Cloud services using Drivers. The Drivers are implementing the Cloud services interfaces. They can be interpreted as wrappers of native resource APIs or uniform APIs, like OpenStack. These wrappers are able to send and receive messages from the mOSAIC's message queues.
The components of a mOSAIC application can be written in several different languages (Java, Python, Erlang, Node.js) and are able to communicate with each other using a component bus (similar to CORBA's one) and asynchronous communications (as being loosely coupled). In particular, Connectors and Drivers can be written in different languages. However, the Cloudlets that are expressing the behavior of the applications are calling the Connectors – therefore the Connectors are expected to be written in the same language as the Cloudlets (further details are provided in [13]).
A simple example
We assume that a software developer intends to built an application which is able to receive requests from the Web (e.g. an XML file) to perform an analysis of the document (e.g. XML parsing) and to store the results in a Cloud storage.
Such an application will be built easily using a predefined mOSAIC component which manages the HTTP protocol and offers the REST interfaces (the HTTP gateway, HTTPgw, in mOSAIC terms), and a Cloudlet that receives the XML files from the gateway, process them, and store the results in the Cloud storage using a key-value store Connector.
Once the application is developed it is possible to deploy it it and use a Cloud storage service offered by a Cloud Provider (e.g. Amazon S3) or a platform's internal component (like Riak-based service). The decision which one should be use can be taken at application deploy time (not during the development) and can be even dynamically changed at runtime. Moreover if the application needs to scale-up due to the high number of requests, the developer can just add at runtime new Cloudlet or other component instances to manage the newly incoming requests.
Event-driven programming
mOSAIC's API was designed to be event-driven. There are few implementations of event-driven approaches in Cloud computing, but the most known are Amazon's SNS, Microsoft's Azure, and the open-source Node.js.
The main reasons for such an approach are [14]: avoidance of expensive pooling on Cloud resources; opportunity to deal with an unlimited number of messages; adaptability that is naturally event-driven; rare changes in the state of long-running Cloud applications; integration with Internet of Things.
The event-driven approach has also drawbacks. The application developer needs to write the callbacks and the data cannot be provided with these callbacks due to the access rights. The states of a resource should be well defined to trigger a call to the API by the resource provider. Therefore, a dependence on the provider can be created for the callback. To overcome these problems, mOSAIC has proposed an abstraction layer (Cloudlets and Connectors) that allows the application developer to follow the concepts of event-driven architecture, while the low level components of the platform (Drivers) are treating the cases of demand-driven approach in the connection with the specific Cloud services. An interoperability component of the platform (between the Connectors and Drivers) acts as a proxy between the instances following the two different models of interactions (further details can be found in [15]).
Patterns
Currently, four pattern categories are used in mOSAIC: (1) programming patterns; (2) platform patterns; (3) service usage patterns; (4) application patterns.
The programming patterns are related to 'component-based' and 'event-driven' approaches. The patterns that are supported by the mOSAIC's platform are 'just-in-time-scalability' and 'event-based execution'.
The classical Cloud service usage patterns, as introduced in [16], are: end user to Cloud, enterprise to Cloud, Private Cloud, changing of Cloud vendors, Hybrid Cloud and so on. mOSAIC is mainly supporting the 'changing of Cloud vendors', and partially the 'Hybrid Cloud'.
Basic application patterns that can be used for quick application prototyping in mOSAIC were presented in an early paper [17]. Web, databases or application servers are supported. The proof-of-concept applications developed in the frame of mOSAIC project showed the approach usefulness for scientific applications. Therefore, Cloud related patterns for scientific applications were analyzed in details and are reported in [18].
User-centric SLA management and dynamic negotiation
SLA management
Service Level Agreements (SLAs) are the basics of a common language for agreements between the Cloud clients and the Cloud service providers. Due to the self-service approach, typical for Cloud computing, a SLA for a Cloud service has from user perspective a relevant role in defining what the service effectively grants. mOSAIC supports SLA both at brokering level and at API level. In the first case, SLAs are used for the brokering mechanisms through the Cloud Agency and through a SLA client with respect to provider's offer. In this second case, mOSAIC acts as an SLA provider: the offered services are enriched with SLAs.
The API offers to the application developer a framework which helps in building custom SLA, as well as in seamless integration of their management in service provisioning. At state of art few frameworks exists that offers such kind of functionalities: the one produced by SLA@SOI [45–47], which proposed a solution for building SLA managers to be integrated in service oriented architectures, or WSAG4j [48] which is a Java library compliant with the WS-Agreement standard (that defines protocol and format for SLA representation and management). Such frameworks are complex and expected to be integrated by Cloud providers: SLA are defined by the provider and the users can access only a set of predefined templates.
The SLA management in mOSAIC is considered to be different from such predecessors in its concept: the main goal of mOSAIC' SLA framework is to enable a developer to easily integrate a single application with an SLA life cycle, so instead of offering a single and static general purpose solution for SLA management for any application, a set of micro-functionalities is offered to be integrated with the application in order to build up a dedicated solution for the application developer problem. Due to the component-based approach of the API, it is possible to build up applications enriched with user-oriented SLA management, from the very early development stages. Example of such microfunctionalities are the SLAgw which offers a REST-based interface to submit and sign SLAs, the SLAstore which maintain the SLA life cycle or the SLApolicy which is adopted to automate the enforcement of SLA policies.
Following such approach SLAs can be defined both by the developers (offering SLA templates like with other solutions) or defined by the users (following the standard WS-Agreement format); in such latter case it is up to the application to parse and eventually accept or refuse the submitted SLA. mOSAIC' SLA framework offers the tools to access the submitted request and templates for building custom decision components, which have the role of making decisions on the basis of the SLA submitted. Such user-centric service level management is further discussed in details in [49].
Note that the SLA parameters to be supported in such solution are strictly dependent on the application and their management is delegated to the application developer. The SLA framework was applied further for the management of security-based SLA (in [50–53]) and has been integrated in simulation engines able to predict the evolution of the developed application [54, 55].
SLA-based brokering and negotiations
The mOSAIC's brokering mechanism is an intermediary between the resource consumers and the resource providers. The best SLA from the point of view of consumer is identified [56]. The policies that can be used are presented in [57], the basic one being the 'lowest cost'. SLA-based brokering mechanisms for 'lowest cost' strategy were detailed in [58].
Exploiting the event-driven architecture, a SLA condition violation triggers an event that can lead to a reconfiguration. A reconfiguration mechanism was therefore conceived, and it is based on rules and a reasoner [59].
Assuming that the Cloud providers are willing to negotiate the costs of the resources, a more complex mechanism with stages for negotiations can be conceived, as the one presented in [60].
Semantic processing and ontology
Semantic engine
The Semantic Engine is a mOSAIC component helping the user in selecting APIs components and functionalities needed for building new Cloud applications as well as in identifying the proper Cloud resources to be consumed. It introduces a new level of abstraction over the Cloud APIs, by providing semantic based representation (in the OWL language of the Semantic Web) of functionalities and resources, related by properties and constraints. The detailed architecture of the solution is presented in [61].
Using the Semantic Engine the developer of Cloud applications can semantically describe and annotate the developed components, specify application domain related concepts and application patterns, potentially using application domain ontologies, as explained in details in [62].
The Semantic Engine overcomes the syntactical differences between Cloud services, resources or their programming models. Automatic analysis of Cloud Vendor APIs is therefore possible, as demonstrated in [63]. Moreover, the semantic representation of Cloud APIs combined with automated algorithmic concept recognition in object-oriented code, augmented with structural based matchmaking techniques, can be a strong basis for porting existing applications towards Clouds [64].
The semantic techniques are used for describing application requirements. The Semantic Engine infers the infrastructural requirements from the application description and from other information, and produces a vendor agnostic SLA template [65].
Cloud ontology
While several Cloud ontologies were developed before mOSAIC (like the one proposed in [66]), the mOSAIC's one is built upon existing standards and proposals analysis through annotation of documents, as described in depth in [67]. It is used in the mOSAIC's semantic processing.
The mOSAIC's Cloud ontology has been developed in OWL. It has been populated with instances of Cloud provider APIs. The knowledge base can be extended with new Cloud provider APIs in the future. The initially proposed ontology was first exposed in [68]. Later on it was augmented with services specific terms – a list of enhancements is presented in [69].
Integration platform
For the purpose of this paper, the collection of individual components that represent mOSAIC's proof-of-concept prototype solutions are depicted in Figure
1
. Individual components, like API implementations, application developing tools, vendor modules and so on are part of the integration platform (named here the mOSAIC's PaaS).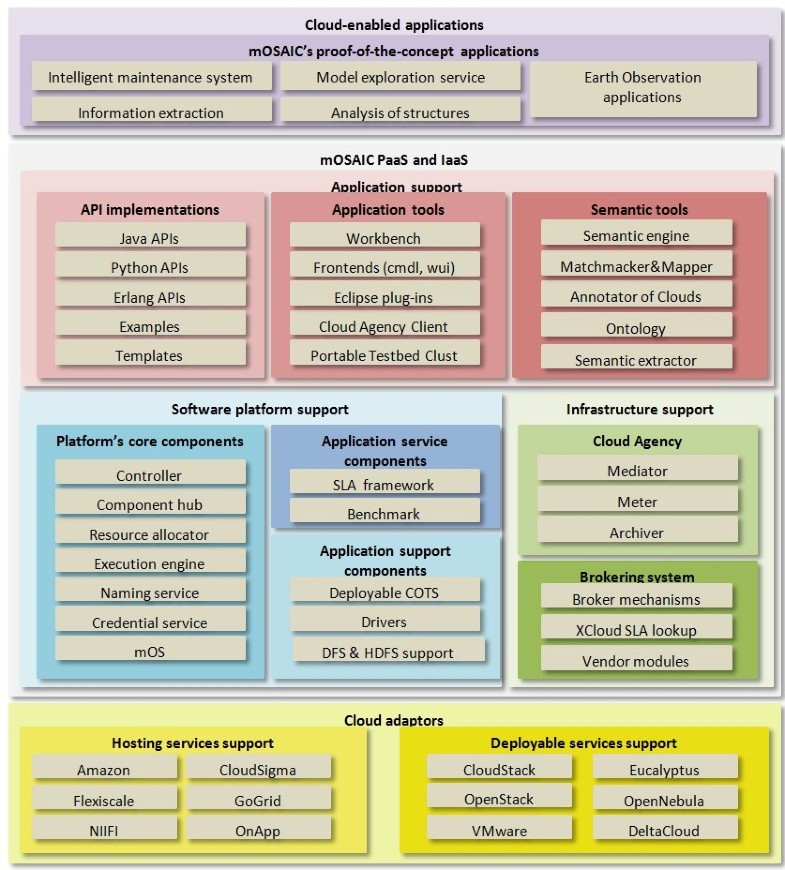 Core components of the software platform
Core components are aiming to enable the run-time and deployment functionalities offered by the platform. These include: mOS, Deployer, Container, Components-of-the-Shelf (COTS) and Drivers. They are responsible for the platform control, scheduling, scaling, monitoring, application deploying and so on.
mOS is a customized Linux kernel running in virtual machines. It is used to host and control the platform and the application components. The Deployer is a core component which deploys software modules on mOS: the packaged component is retrieved by the Deployer from the named location and installed into an appropriate execution environment inside the instantiated Virtual Machines. A Container is a component which hosts Cloudlets, and is responsible for meeting the requirements of elasticity and fault tolerance. The Drivers access specific API of external Cloud services, and are built, for example, for message queue mechanisms like RabbitMQ [70], for key-value stores provided by Amazon S3 [71] or Riak [72], or for distributed file system HDFS [73].
The functionality of the core components was described for the first time in [74]. Aspects like reliability or fault-tolerance support are treated in later papers like [75].
Commercial off-the-shelf components
A number of software components were adapted, so that they can interoperate with the mOSAIC platform and facilitate seamless application development and deployment. Examples of components off-the-shelf (COTS) that are currently available are: RabbitMQ Server, Riak Server, CouchDB server [76], Jetty web application server [77], MySQL server.
In mOSAIC, COTS are viewed as Cloud software resources, based on open source technologies and re-usable. These components are deployed as any other component and can be managed, monitored, and accessed via specific Drivers.
Application development and deployment tools
Several tools are offered to enable the seamless development of new applications or the deployment of the existing applications. Eclipse plug-ins, for example, allow the development, deployment, debugging and control of the components written in Java. A Web interface and a command line interface are available to monitor the status of the deployed components (including analysis of the logs) and to control the life-cycle of the running applications. Configuration tools and editors are provided so that, for example, it is possible to build Call-for-Proposals, which may be directly submitted to the Cloud Agency.
The Portable Testbed Cluster (PTC) is a specific component that allows for application testing on the developer's desktop computer. The PTC simulates a Cloud environment using VirtualBox [78]. Its also uses a simple resource allocator, a credential service (which stores the credentials for a specific user for a specific Cloud provider), and the storage of the application components in a Web accessible location. Through its graphical interface the PTC allows the seamless movement of the locally developed application into a Public or Private Cloud.
Open-source and portability of the integrated platform
A large part of the integrated platform is offered as open-source in the mOSAIC's Bitbucket collection [
79
]. Tables
1
and
2
map the components to the corresponding repositories. The open source part makes it possible to design and execute a variety of Cloud applications.
Table 1
Open-source codes in Bitbucket repository (Part I)
| Component | Description | Sub-repository |
| --- | --- | --- |
| | API implementations | |
| Java API | Provides the developer with an asynchronous API formanaging a customized Component and allowing the access to various data sources and backends | Mosaic-java-platform |
| Python API | Similar with Java API, but for Python | Mosaic-python-platform |
| Erlang | Tools for Erlang | Mosaic-erlang-tools |
| NodeJS | NodeJS implementation | nodejs-libraries |
| DFS Java Connector | Java Connector for distributed file systems | Mosaic-java-connectors-dfs |
| Realtime feeds | Allows interested users to receive live updates of various ATOM feeds, via a Web interface | Mosaic-examples-realtime-feeds |
| | Application tools | |
| Workbench | A set of functionalities implemented inside the EclipseRCP that permits to have a fully functional Eclipse workbench to work with the mOSAIC platform | Mosaic-workbench |
| Frontends | Allow the user to interact with the actual tool implementations (the backends) via various interfaces like CLI (Command Line Interface) or graphical UI's | Mosaic-node-wui |
| Eclipse plugins - Editors | Provides the end user a way to edit the configuration files in a completely visual way | Mosaic-workbench |
| CA Connector | Cloud Agency Connector | Mosaic_ca-connectors |
| Portable Testbed Cluster | Local virtual cluster environment that simulates a IaaS | |
| | Application service components | |
| SLAgw | SLA REST interface | Mosaic-java-SLAgw |
| SLA-components | SLA storage management component | components-SLA |
| Benchmark-SLA | SLA Policy Component | components-benchmarks |
| Benchmarks | Java benchmarks | Mosaic-java-benchmarks |
| | Vendor modules (in mosaic-vendormodule-*) | |
| Amazon | Amazon vendor module | -amazon |
| CloudSigma | CloudSigma vendor module | -cloudsigma |
| Eucalyptus | Eucalyptus vendor module | -eucalyptus |
| Flexiscale | Flexiscale vendor module | -flexiscale |
| GoGrid | GoGrid vendor module | -gogrid |
| NIIFI | Vendor module for Hungarian IaaS | -niifi |
| OpenNebula | OpenNebula vendor module | -opennebula |
| OpenStack | OpenStack vendor module | -openstack |
| PTC | Module for mOSAIC's PTC | -ptc |
| VMware | VMware 's vCloud vendor module | -vmware |
Table 2
Open-source codes in Bitbucket repository (Part II)
| Component | Description | Sub-repository |
| --- | --- | --- |
| | Platform's core components | |
| Controller | Allows the developer to observe and control the running components (either Cloudlets, Drivers, Resources, etc.) | Mosaic-node |
| Component hub | Intermediates communication between the components, and other various needed services (eg. logs) | Mosaic-node |
| Resource allocator | Resource provisioner based on existing credentials | Included in PTC |
| Execution engine | Container: Component responsible for instantiating linux containers (LXC) from mosaic bundles (containing all required data for running an application) | Mosaic-execution-engine |
| | Agent: Running inside the Containers providing application setup, startup and monitoring | Mosaic-execution-engine-agent |
| Naming service | Allows the registration of new components and their discovery by other components | Mosaic-node |
| Deployer | A Python RPC implementation based on JSON-RPC2, providing introspection, Unix socket based protocol, standard Http protocol support and a simple CLI application implementing the protocol | mjsrpc2 |
| Packager | Packaging utilities and repositories | Mosaic-packages-repositories |
| Scheduler & Scaler | Scheduling and scaling components | Mosaic-scheduler |
| Credentials service | Provides secure access to various credentials or secret tokens needed by various libraries or components to access external resources | Mosaic-credentials-service |
| mOS | mOSAIC operating system: the system includes the platform's core services | Mosaic-mos |
| | Deployable COTS and Drivers | |
| RabbitMQ component | Customized variant of RabbitMQ which makes it behave like a managed component | Mosaic-components-rabbitmq |
| Riak component | Customized variant of Riak which makes it behave like a managed component | Mosaic-components-riak-kv |
| CouchDB component | Customized variant of CouchDB which makes it behave like a managed component | Mosaic-components-couchdb |
| HTTP Gateway component | Intermediates HTTP requests between clients on the Internet and components handling those requests. Provides routing and load balancing | Mosaic-components-httpg |
| mHTTP Gateway component | Routes HTTP messages on queue and enable access to a key value store. Renders HTML pages | Mosaic-components-mhttpgw |
| AMQP driver component | Message Queue driver for the AMQP protocol | Mosaic-java-platform |
| Riak driver component | Key value driver for the Riak component | Mosaic-java-platform |
| HDFS driver component | Distributed File System driver for Hadoop | Mosaic-java-drivers-hdfs |
| MySQL component | A component for handling (starting/stopping) a MySQL database engine | Mosaic-components-mysql |
The platform is theoretically deployable on any Linux-based virtual machine. mOS needs to be first installed to make available the core components. For several providers (e.g. Amazon, Flexiant), virtual machine images, with mOS already installed on top, are publicly available.
The fact that the mOSAIC's platform is deployable makes the difference from other PaaS, like Google Application Engine [80] or Microsoft Azure [81]. An open-source and deployable PaaS, developed in the same time with mOSAIC, is the VMware's Cloud Foundry [82]. Compared with this one, an advantage is the complete openness of the mOSAIC's API.
Platform-as-a-Service characteristics
As discussed earlier, by using mOSAIC, the developer of a Cloud application can postpone the selection of a Cloud infrastructure provider, from the development to the deployment phase. Through the usage of the application tools, a seamless deployment of the application in various Public Clouds is possible after its development and debugging in a Private Cloud or on a local computer. This is more than a Platform-as-a-Service can currently offer – usually the application is deployed immediately on the infrastructure that the PaaS owner provides.
A classical PaaS is not exposing the infrastructure services that are used, while in mOSAIC its user is aware and able to control the resource services. From this point of view mOSAIC distinguishes from other PaaS, as being a portable and lightweight management software for IaaS.
Proof-of-concept applications
The concept of a mOSAIC Cloud application
A mOSAIC compliant application is built from loosely coupled components. Its execution is expected to have no limits in time. It may be expected that some of the components would be elastic, i.e. able to scale up and down in number. The most common cases of Cloud applications are Web applications, which fully fit into this behavioral model. However, the mOSAIC API and platform are suitable for building and deploying also other applications which can have the same behavior.
There are two basic scenarios of using the mOSAIC set of solutions:
1.

Developing a new application from scratch. In this case the developer has the possibility to use most of the software tools provided by mOSAIC, starting with the API implementation and the application tools. The Semantic Engine can be used to find proper design patterns. Application tools can be used to prepare a Call-for-Proposal for the Cloud Agency and to approve one of its responses. Software platform services are responsible to deploy, control and monitor the executing application.

2.

Migration of an existing application. In this case the application owner may be interested in finding a proper place to deploy the application, and the Cloud Agency is the main tool which is used in the process. The application owner may use the application tools to properly describe the application and to make a Call-for-Proposal to the Cloud Agency. Only a part of the platform is used to control the application after its deployment.
Benefits of using mOSAIC
The main reason of using the mOSAIC solution may be its vendor-agnosticity. The application developer and owner can select at run-time the Cloud services to be consumed (usually this decision need to be made at design phase). A side effect is the possibility to migrate applications from one Cloud provider to another. Therefore mOSAIC can be used to port applications between Clouds. Other reasons for using mOSAIC may be more technical:
1.

Ability to ensure the elasticity at component level (usually done to a lower level of granularity, at virtual machines level).

2.

Integration in one set of solutions of application development tools with deployment and control tools, as well as with Cloud brokering mechanisms.

3.

Open-source technology that allows extensions as needed for special applications or embedding of other technologies.

4.

Deploy-ability that allows to use on-premises resources in development phase and to build Private or Hybrid Clouds enabled applications.
Demo applications for the API usage
Simple applications, like the 'Hello world', producer-consumer, ping-pong messaging and so on, are provided for the Java implementation of the API. The example applications as well as various Cloudlet templates are available in the open-source repository.
A more complex application that combines COTS and developed Cloudlets, is a so-called real-time-feed application. It is small a RSS feed alerter. A classical implementation supposes a poll mechanism that constantly fetches content and makes a comparison with the previous version of the retrieved content to see what is new. On contrary, the demo application implements a push method which identifies the changes and announces them to the event listeners. It uses Twitter' streams of updates to subscribed applications. A first-time description is available in [83].
Proof-of-concept scientific and commercial applications
In the context of mOSAIC project, a variety of applications were developed. These include:
1.

an Earth observation application where IaaS is procured for processing satellite data in emergency situations (e.g. earthquakes);

2.

an Intelligence Maintenance System allowing maintenance of devices from different industrial scenarios through early diagnosis of faults in critical components and real-time monitoring of key variables;

3.

a Model Exploration Service, an online service to run agent-based simulation, requiring scalability;

4.

a port to the Cloud of a legacy application for the information extraction from scientific papers;

5.

a port to the Cloud of an engineering application for analysis of structures under static loading, with the intention to make it available on the Internet without the need for special licenses or environmental settings.
The Earth observation application prototype dealing with big sets of large-sized data is based on GMTSAR, an open source processing system. It uses the mOSAIC Cloud Agency as independent component for the provisioning of computational resources to create Virtual Clusters to run an OpenGIS Web Processing Service server and a Hadoop framework. The main benefit of using the mOSAIC approach is related to vendor-agnosticity. The prototype is described in [84].
The Intelligent Management System intends to manage easily and rapidly large amounts and continuous streams of information. It has been written using the mOSAIC API specifications. Two main groups of components are used: components provided by the platform (message queues, storage systems, HTTP gateway, etc) and specific components implemented as Cloudlets (for sensor data management, knowledge extraction dispatcher, etc). The main benefits of using mOSAIC are: the elasticity of the application depending on the required computation capacity, and the usage of fault tolerance features. A preliminary description is provided in [85].
The Model Exploration Service is an online service to run agent-based simulations in the Cloud. Cloud resources are used to run large parameter sweeps of the models. The initial application has already run using Amazon's AWS. The porting of the application by applying the mOSAIC approach has not involved only the change of calls from the Amazon API to the mOSAIC API. The internal architecture of the application was changed to adopt mOSAIC design principles (the Cloudlet model) to facilitate scalability, portability and autonomous reconfiguration. By avoiding vendor lock-in, the new version of the application can be moved across 'Cloud borders', or the application can be Multi-Cloud in the sense that certain parts run on different provider infrastructures. The application architecture was first presented in [86].
Information extraction from scientific papers is a part of the ReReSearch project that aims to build a knowledge base about research. It is a computationally expensive task and, as the number of papers to be processed varies considerably in time, there is a need for elasticity of the Cloud (the preliminary study [87] lists the requirements). The legacy Python code implementing the extraction algorithms was split into components and wrapped into Cloudlets. These Cloudlets, managed by the mOSAIC platform, make the application elastic and portable. The Cloudified extractor is exposed as a RESTful web service which can be used as needed by ReReSearch control system. Implementation details are exposed in [88].
The Analysis of Structures under Static Loading application is based on a specific Finite Element formulation, which allows the modeling of a desired structure by beam elements. It is based on the NoDeK software which is written in Matlab and used by small number of construction engineers, due to the required Matlab licenses for running the simulation. The application has scalability problems and its user-friendly interface could be considerably improved. There are several reasons to use Cloud computing technology, e.g. offering the application as a service has the target of widening the customer base. The reasons of selecting mOSAIC is related to the expectations of faster calculation in Clouds than on the local desktops, as well as to deal with the dynamic change in the number of concurrent users. The design of the Cloudified version of the application is available in [89]. Matlab-based Cloudlets were designed and are presented in further details in [90]. The use of Semantic Engine usage in the development phase of the application is exposed in [91].
Benchmarking
A mOSAIC application is developed without taking into account the target provider, however when the application needs to run and consume resources, the choice of the infrastructure provider may significantly affect the application performances and costs of using the infrastructure. The evaluation and prediction of such performances for applications is a complex task, due for example, to the elasticity offered by Cloud resources, or the high number of layers involved.
In order to face the problem of choosing appropriate infrastructure provider, mOSAIC provides a Benchmarking Framework. The framework contains a set of components that can be used in order to setup a custom benchmark which measures the performances of the target application under well known workloads. Such benchmarks are built "ad-hoc" for each different application, even if a set of stable application for common resources and application are available and can be used as kernel benchmark to compare different providers [92]. Moreover, through the adoption of simulation techniques it is possible to use benchmark results to predict the behavior of application in different execution conditions, as proposed and demonstrated in [93].
Scientific applications support
While being partially an open-source solution, it is expected that mOSAIC is interesting especially for the academic communities. As pointed above, mOSAIC has prove its utility for several scientific applications with different requirements. Therefore, the opportunity for mOSAIC to be a science facilitator was investigated recently in [94]. An early study of migration from Grid to Cloud using mOSAIC concepts is provided in [95] for a platform intended for high education activities in Earth observation. The support for scientific legacy applications through self-configuration is exposed in [96]. For the particular case of engineering application, a comprehensive study can be found in [97].
Related projects, prototypes or applications
Related projects
mOSAIC has a strong relationship with two national projects: the Italian Cloud@Home [123] and the Romanian AMICAS [124].
The primary goal of Cloud@Home is to implement a volunteer Cloud, by which both the commercial/business and the volunteer/scientific viewpoints coexist. Several topics that are treated by Cloud@ Home and are not primary targets to mOSAIC have lead to common proposals. Two topics are in this context relevant: performance management exposed in [125], and quality of services exposed in [126]. Moreover the SLA-based mechanisms for brokerage are common to mOSAIC and Cloud@Home [127]. CHASE [128], Cloud@Home's Automatic Service Engine is designed to optimize the scheduling of virtual machines in a Cloud environment based on the a performance prediction service and a forecast service.
The primary goal of AMICAS is to offer a solution for Automatic Clouds. Opposite to mOSAIC which is targeting the Cloud users, AMICAS is targeting the Cloud providers, intending to offer them an easy manageable middleware (Cloudware) for Multi-Cloud. It starts from the mOSAIC's software platform and enhances it with facilities of interest to Cloud providers. An important topic that is tackled by AMICAS, using the mOSAIC experimental platform, is the programmability of services for multiple Clouds. The steps to reach a high level of programmability were discussed in [129], while the programmatic management of services from multiple Clouds using mOSAIC was described in [130]. Another subject is the auto-scaling mechanisms, essential in Cloud computing environment. Currently most of such mechanisms that are used by Cloud providers are centralized. Taking into account the perspective of the Multi-Cloud, such centralized approach is not appropriate. A decentralized auto-scaling mechanism was therefore proposed in [131] for the case of homogeneous systems, and was extended for the heterogeneous systems in [132]. Theoretical analysis of the background algorithm correctness is presented in [133].
mOSAIC's software platform is used as a Multi-Cloud resource management middleware in another current project funded by the European Commission: more precisely, it plays the role of run-time environment in the model-driven engineering project named MODAClouds [134]. Its role in the architecture is explained in the early position paper [135].
Moreover, the Earth Observation application can be viewed as a preliminary study for the Earth Observation Use Case scheduled in the frame of the Helix Nebula project (Science Cloud initiative funded by the European Commission [136]).
Related prototypes
As stated earlier, mOSAIC is interested to support scientific applications running in Clouds. A large category of scientific applications are based on parallel computing simulations.
mJADES is a prototype for concurrent simulations in Clouds, using the mOSAIC's SLA framework. It is the result of Italian PerfCloud project (building an environment for IaaS provision based on Cloud and Grid integration). Its architecture is explained in [55]. Using this prototype several performance prediction studies of Cloud-based parallel simulations were done [54, 137].
The mOSAIC software platform is used by the prototypes of services delivering HPC-in-the-Cloud in the frame of HOST project [138] funded by European Commission in the frame of FP7 Capacities programme [139].
The mechanism used in Clouds and Grids for resource identification and brokering are close. Key ideas that were the basis for mOSAIC Ontology and Brokering systems were used recently in the Grid context. An Ontology for contract negotiations was presented in [140], while negotiations in an agent-based grid resource brokering system are exposed in [141].
An adaptive and semantic database model for RDF data stores [142] was also conceived following mOSAIC data service examples.
Related software products
Olaii [143] is a commercial product emerged as side effect of developing the dynamic semantic discovery service of mOSAIC. Information extraction library developed under the umbrella of mOSAIC's dynamic semantic discovery service is focused on extraction of the semantic descriptors for REST APIs, but can be extended to cover other use cases. The product is an application which will help discovering events or finding friends to go out with. The semantic extractor developed in mOSAIC is modified to extract the events instead of REST operations. Machine learning techniques applied in the semantic extractor to classify REST operations and to find irregular operations are applied for the events for building a recommendation system based on users' Facebook or Twitter profiles.
mOSAIC is currently used to provide an information service to the citizens of the third largest town of Romania. More precisely in the frame of SEED project [144], funded by European Commission through the CIP programme [145], a particular information service was build using mOSAIC API and platform and continuously extracts feeds from governmental sites (European, national and regional) as well as public service institutions (theaters, public transportation etc) and display them on in- and out-door large devices. The application is similar to the real-time-feed demo application.
Conclusions and future developments
Drawing the line at the end of project, the mOSAIC's multi-national team is checking the degree of fulfillment of the initial promises. Shortly these were:
(i)

a set of APIs for application portability between Clouds,

(ii)

agent technologies supporting dynamic negotiations with multiple Cloud providers,

(iii)

user-centric service level agreements,

(iv)

Cloud ontology and semantic data processing,

(v)

an open-source and portable platform-as-a-service,

(vi)

proof-of-concept applications.
Targeting to provide an innovative solution in these fields, mOSAIC approach has proven its uniqueness and advantages over other existing approaches in what concerns:
(a)

deployable and portable services of platform type on top of IaaS;

(b)

brokering system based on customizable service level agreements and agent technologies;

(c)

portability of Cloud applications supported by semantic processors and multi-layered API;

(d)

usefulness for porting scientific and commercial applications towards the Cloud;

(e)

a stable, complete and innovative middleware for building, deploying and controlling applications following Multi-Cloud usage scenarios.
While disparate proofs of the innovations are dispersed in various mOSAIC-related articles, the present report tried to offer a general overview of the main achievements and advantages of mOSAIC. However it highlights also some weaknesses in relationship with other approaches, subject to improvements in the next years:
(1)

the event-driven programming style of mOSAIC applications is considered to be complex by less skilled programmers; the templates collections as well as the workbench and wizzards should be improved to better assist the application developers;

(2)

the deployment of special libraries still require manual intervention; the deployment procedures are therefore expected to be improved;

(3)

the mechanism of the brokerage system allow complex policies to be applied; however, simple policies are currently used and the full potential was not yet exploited;

(4)

semantic processing is used currently at design phase; the potential of the dynamic discovery services, for example, has not yet been fully exploited.

(5)

several software prototypes have been developed as proof-of-concept and a considerable part of them, yet functional, are not ready for a production phase; according to the interest expressed by the community surrounding mOSAIC, particular components (like the PTC simulator and resource allocator) will be further improved to offer production-level quality of service;

(6)

commercial products developments has underline the need of enlarging the number of COTS that are wrapped to work with mOSAIC platform;

(7)

the proof-of-concept applications developed in the frame of the project are expected to be improved to satisfy the requirements of their external users.
Several topics that were not in the main focus of mOSAIC project are expected to be pursued in the near future relying on the mOSAIC approach and software repositories. We have already mentioned some of them in this paper: model-driven engineering for Clouds, Cloud security or automated management of Cloud resources. With certainty this will happen in the frame of the research, development and collaborative projects that already rely upon the mOSAIC's specific components. We remind here some of them:
FP7 projects: MODAClouds in model-driven engineering direction, SPECS in security direction, HOST in scientific application support direction, Helix Nebula in Earth observation application field;
National projects: AMICAS, in the direction of automated management of multiple Cloud resources, or Cloud@Home in the direction of Volunteer Cloud.
The fact that the mOSAIC architecture is built from loosely coupled components enhance the chances for the open-source software prototypes to be adopted and enhanced in other contexts that mOSAIC initial scenarios. This is the case of the commercial product Olaii that was mentioned in this paper, which has started from the semantic extractor developed in the frame of mOSAIC project.
Declarations
Acknowledgements
The research and development reported in this article was partially supported by the European Commission grant no. FP7-ICT-2009–5-256910 (mOSAIC).
The development of the mOSAIC approach was sustained by a large multinational team that is far from being reflected in the list of the authors of this paper: the paper's authors are the key persons from each team that have drive the approach development. They are taking this opportunity to express their gratitude to the team members of mOSAIC project that are not in the author list:
– from Second University of Naples: Alba Amato, Giuseppe Aversano, Rocco Aversa, Antonio Bagarolo, Daniele Bove, Pasquale Cantiello, Giuseppina Cretella, Vincenzo De Crescenzo, Massimiliano Diodati, Massimo Ficco, Loredana Liccardo, Francesco Moscato, Manuela Serrao, Luca Tasquier;
– from Institute e-Austria Timişoara: Bogdan Alexandru Căprărescu, Adrian Copie, Ciprian Dorin Crăciun, Teodor-Florin Fortiş, Marc Eduard Frîncu, Georgiana Macariu, Victor Ion Munteanu, Marian Neagul, Viorel Negru, Silviu Panica, Călin Şandru;
– from AITIA: Rajmund Bocsi, Gabor Ferschl, László Gulyás;
– from Tecnalia: Unai Antero, Imanol Padillo Cruz, Gorka Mikel Echevarria Velez, Iñigo Lazkanotegui Larrate, Miguel Loichate, Asier Sesma;
– from TerraDue: Hervé Caumont, Pedro Gonçalves, Simone Tripodi;
– from ESRIN-ESA: Claudio Di Giulio, Fulvio Marelli;
– from Xlab: Mariano Cecowski, Gregor Pipan, Boris Savič;
– from Brno University of Technology: Petr Škoda, Pavel Smrž;
– from University of Ljubljana: Peter Češarek, Jernej Južna, Matija König, Aleš Kroflič, Gašper Stegnar.
Authors' Affiliations
(1)
Institute e-Austria Timişoara and West University of Timişoara, Timişoara, Romania
(2)
Second University of Naples, Aversa, Italy
(3)
AITIA International Inc, Budapest, Hungary
(4)
Industrial Systems Unit, Tecnalia, Spain
(5)
Terradue SRL, Rome, Italy
(6)
Earth Observation Science, Applications and Future Technologies Department, ESRIN, European Space Agency, Frascati, Italy
(7)
XLAB d.o.o., Ljubljana, Slovenia
(8)
Brno University of Technology, Brno, Czech Republic
(9)
University of Ljubljana, Ljubljana, Slovenia
Copyright
© Petcu et al.; licensee Springer. 2013
This article is published under license to BioMed Central Ltd. This is an Open Access article distributed under the terms of the Creative Commons Attribution License (http://creativecommons.org/licenses/by/2.0), which permits unrestricted use, distribution, and reproduction in any medium, provided the original work is properly cited.